Pale ruby color; cherry, cranberry, plum, raspberry, earth, oak on the nose; sour plum, cherry, licorice, red fruit, pepper, vanilla on the palate.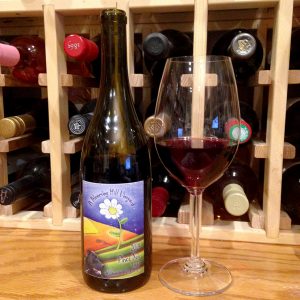 Dry; medium body; grippy tannins; long, earthy finish. The estate grows two blocks of pinot noir, both named after winery dogs—Trouble and Gemini. Trouble—this effort—was planted in 2002 with Pommard, Wädenswil, and 777 clones. Trouble is chunkier with significantly greater body and tannin grip than Gemini. Both wines appear to be finished in French, Hungarian, and Oregon oak, 30% new each year, but Trouble has more oak presence, possibly by more time in oak or newer oak, maybe even some American oak. The website and tasting notes don't give much information, so this is impression from tasting one day apart.
While Gemini is etherial, Trouble is earthy with savory notes. It tastes more like a California quality pinot noir (while still offering Willamette notes), while Gemini is distinctly Willamette Valley. I tasted Gemini first and was impressed. If given a choice, I would drink Gemini, but I would not refuse either. The food pairing also would affect my decision.
These are reviews of two 2014 vintages, the first time Blooming Hill began making two different efforts from their two different blocks. Checking notes from other reviewers on later year vintages, they gave different opinions about both, including some negatives. I enjoyed both 2014 efforts—which appear to still be available from the winery—but I enjoyed them for different reasons. The 2014 Gemini was what I look for in a Willamette Valley pinot noir: etherial, light, delicately delicious fruit, reserved tannins. The 2014 Trouble is more what I expect from a West Coast pinot noir. Gemini review on this website: Link to Gemini review.
A Blooming Hill Vineyard Pinot Noir Trouble Willamette Valley 2014 is Blooming Hill's bolder, assertive pinot, at least with this vintage. You will get more heft, sour plum, meat, oak and tannin with Trouble—which many people appreciate in a pinot—than you get with its sister bottling, Gemini. Trouble, thus, will pair with stronger flavors, including grilled meats, hamburgers, pizza, barbecue pork and beef, brisket—thanks to the tannins, strong cheeses. Compare the lighter fare pairings recommended with Gemini, but both are versatile and will pair with wide range of fare. $30
A Blooming Hill Vineyard with some nice videos. You will get a flavor of the operation.