Medium copper color; cherry, strawberry, raspberry on the nose; ripe cherry, strawberry, red watermelon, raspberry, peach on the palate.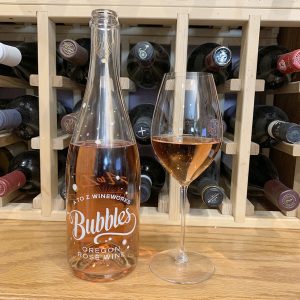 Brut; impressive, mouth-watering acidity. Very lively in the mouth; tiny bubbles. A surprise wine. With its crown cap closure (not a mushroom cork) and comic book label/name, you pour with some trepidation that this will be bubble gum wine. Artificial, gimmicky, aimed at the Barefoot Bubbly market. No. This is respectable sparkling rosé; blend of 90% pinot noir; 10% chardonnay; 12.5% ABV.
Creamy mouthfeel. Fresh, crisp and linear presentation of the red fruits; 100% fermented in stainless. The tasty taste you get on the initial attack is pretty much what you get through the finish, with the brisk acidity contributing interest in the mid-palate. Ripe red fruits and acidity with tiny bubbles. Simple. Effective. Works for me.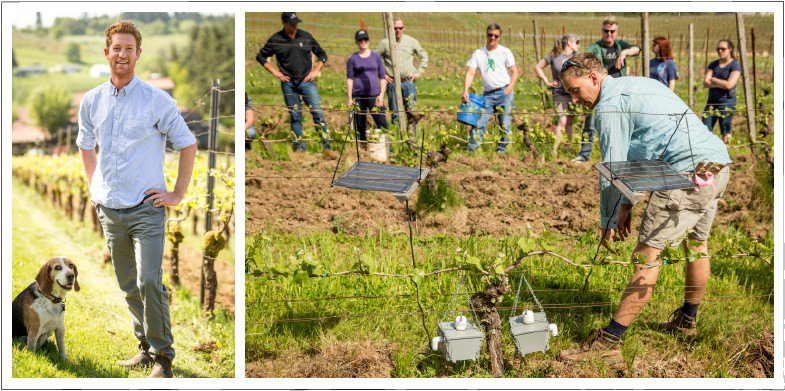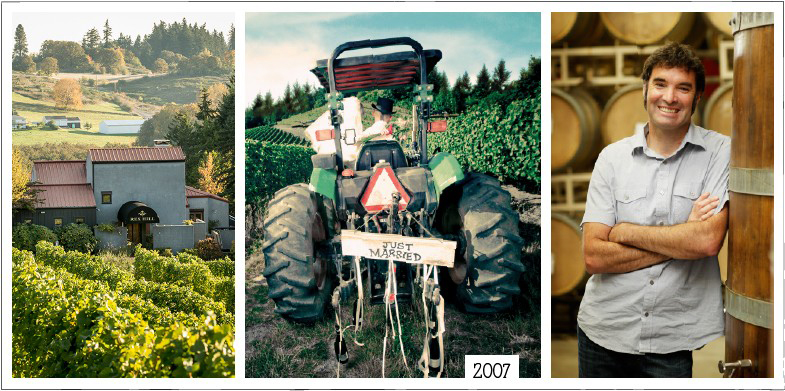 A to Z Wineworks is Oregon's largest negotiant winery and the top-selling Oregon wine brand. It was started in 2002 by four friends, Oregon wine industry veterans Deb Hatcher (Eyrie), Bill Hatcher (Domaine Drouhin Oregon), Sam Tannahill (Archery Summit), and Cheryl Francis (Chehalem).  The two couples worked in the Hatcher's kitchen to build the original blend, a pinot noir that was honored by Food & Wine magazine as the Best American Pinot Noir under $20. With such recognition for quality and value, A to Z Wineworks production grew quickly, with grapes for their various varietals now coming from some 100 Oregon winegrowers; 175,000 cases of this pinot were made.
According to the A to Z website: "In 2006, the group welcomed another Oregon wine veteran, Michael Davies, as winemaker, and partnered with Gregg Popovich (Coach of the San Antonio Spurs) to buy REX HILL Vineyards and Winery (established in 1982). A to Z has worked with more than 100 vineyards across the state always offering assistance for sustainability certification that the group expects to be achieved within three years of partnering. Today, A to Z has two viticulturists on staff and uses biodynamic principles to farm all owned or long-leased vineyards."
In 2014, A to Z Wineworks became the only winery in the world certified as a B Corporation, a demonstration of deep commitment to transparency, accountability, and social, environmental and economic improvement. B corporations are to business what fair trade certification is to coffee or USDA organic certification is to milk. Certification requires meeting rigorous standards of social and environmental performance, accountability, and transparency. The goal is to redefine success in business beyond bottom line numbers. A to Z pays 100% of its workers above the local living wage and pays 100% of full-time employee health benefit programs. More than 50% of management are women or individuals from under-represented populations.
The winery's dual mission statement is to offer "Aristocratic Wines at Democratic Prices" and deliver "The Essence of Oregon." The efforts twice have been named one of Wine Spectator's Top 100 wines of the year. Visit their website to get the inspiring complete picture (links below).
A to Z Wineworks Bubbles Oregon Rosé Wine is simple, tasty, a fun expression of Oregon pinot noir-led sparkling. In spite of packaging, this is not cherry bubble gum with a fizzy tablet tossed in. Crisp with excellent acidity. Comes with crown cap closure bottle, also in cans. There is fun and whimsy here, but it is built around a core of quality fruit and talented winemaking.
This seems ideal for pool, deck, dock, patio sipping on a summer day. The canned packaging seems especially appropriate for that. You could pair it with picnic, outdoor cooking—from hot dogs to burgers, sliders, Buffalo wings, other food you eat off paper plates with your fingers or plastic utensils. $16-18
Superb video on the website about A to Z