Pale-to-medium ruby color; raspberry, red berry, cherry on restrained nose; raspberry, cherry, red berry, strawberry, lime on the palate.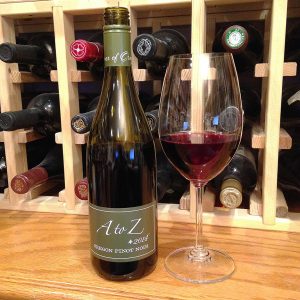 Medium-light body with Beaujolais-type flavors and lightness in the mouth; fruit-forward with very nice balancing acidity and tartness (my lime note on the palate description); light tannin; if oak is there, very reserved.
A to Z makes some 235,000 cases of this wine, making this the largest pinot noir production in Oregon. Maintaining quality through more than 2.8 million bottles is a significant achievement. This is a true pinot noir play, unlike other efforts at this price, particularly from California where the wine is tarted up with zin and other juice while staying within the 70% required pinot noir quantity to be called pinot noir. This is indisputably pinot noir that drinks true to the profile of pinot noir at significantly higher price points.
The winery's website tells its story well: "A to Z Wineworks was started in 2002 by four friends, Oregon wine industry veterans Deb Hatcher (Eyrie), Bill Hatcher (Domaine Drouhin Oregon), Sam Tannahill (Archery Summit), and Cheryl Francis (Chehalem).  The two couples worked in the Hatcher's kitchen to build the original blend honored by Food & Wine magazine as the Best American Pinot Noir under $20. Recognition for their A to Z wines with dependable quality and great value continued and production grew.
"In 2006, the group welcomed another Oregon wine veteran, Michael Davies, as winemaker, and partnered with Gregg Popovich (Coach of the San Antonio Spurs) to buy REX HILL Vineyards and Winery (established in 1982). A to Z has worked with more than 100 vineyards across the state always offering assistance for sustainability certification that the group expects to be achieved within three years of partnering. Today, A to Z has two viticulturists on staff and uses biodynamic principles to farm all owned or long-leased vineyards."
In 2014, A to Z Wineworks became the only winery in the world certified as a B Corporation, a demonstration of deep commitment to transparency, accountability, and social, environmental and economic improvement. (B corporations are to business what fair trade certification is to coffee or USDA organic certification is to milk. Certification requires meeting rigorous standards of social and environmental performance, accountability, and transparency. The goal is to redefine success in business beyond bottom line numbers.)
A to Z Wineworks Oregon Pinot Noir 2014 is very solid high-production pinot noir; it is very unlikely you can match this quality at this price. And with San Antonio Spurs coach Gregg Popovich part of the team, you know this is a consistent winner. The winery proclaims its mission is to offer "Aristocractic Wines at Democratic Prices." It succeeds with this effort. $17-20