Medium copper-salmon color; raspberry, strawberry, cherry candy on the nose; strawberry, raspberry, bing cherry on the palate.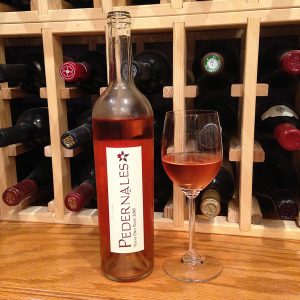 Dry (as advertised on the label); nicely defined fruit provides only a suggestion of fruity sweetness. Crisp, clean, good acidity. The website and winery are parsimonious with information about the wine, so no notes on pH or other qualities. The winery venue in Stonewall regularly receives rave reviews for its beauty and Texas-friendly hospitality, easy access from Fredericksburg on a Texas winery tour, also easy day trip from Austin and San Antonio.
Pedernales Cellars varies its rosé formula from vintage to vintage, likely dependent upon the Texas fruit available. The 2016 iteration is a Provence-style blend of 50% grenache, 24% cinsault, 22% mourvèdre, 4% syrah; the winery has used sangiovese and tempranillo in the past.
Pedernales Cellars is a leading producer of handcrafted wines using Texas-sourced grapes. Larry and Jeanine Kuhlken started the Kuhlken Vineyards in the Texas Hill Country in 1995; their children David and Julie and son-in-law Fredrik Osterberg produced the Stonewall, Texas, winery's first vintage in 2006. David is the winemaker. Julie, who holds a PhD from Middlesex University (London) oversees the marketing and branding. Julie's husband, Fredrik, originally from Sweden, has extensive entrepreneurial experience and serves as president of the company.
Pedernales Cellars Texas Dry Rosé 2016 is a very tasty, lovely dry rosé. It is a bit pricey, but you expect that from pure Texas grape play. It holds its own when compared to similar Provence pours, a nice feat for a Texas wine. $30