Deep purple color; black fruits, leather, smoke, violets on the nose; red plum, black cherry, black raspberry on the palate.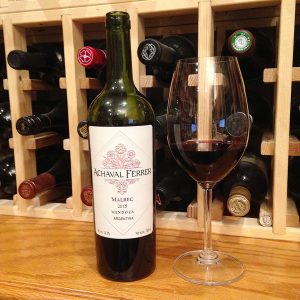 Rich, juicy, soft and big in the mouth; extra dry; smooth, easy drinker with well-behaved tannins with a little bit of grip; sufficient acidity (3.8 pH); somewhat reserved oak (nine months in two-year-old French oak). Minerality, spice, and dollop of grape jam appears on the mid-palate and the medium-long finish. If you enjoy malbec—and what is not to enjoy—you certainly will enjoy this expression of the variety.
Achaval Ferrer is important producer in Mendoza. This is their entry-level malbec with grapes sourced from several parcels in the region. They also produce single-vineyard efforts that surpass this but cost considerably more. You, however, easily can be content with the sophistication and depth in this bottle.
Silvio Alberto is the CEO and senior winemaker. He holds a degree in oenology and fruit horticulture, and in addition working his way through several major wineries to achieve his current position in 2013, he also has more than 15 years of experience as an undergraduate and graduate professor of oenology. Under Alberto, the winery continues to emphasize four points that have guided the winery since its creation in the mid-1990s:
• Ungrafted vines. Most are more than 70 years old; they trace their heritage to Europeans who brought vines to Argentina from France before the phylloxera catastrophe in the 1860s-1890s.
• Low yields to concentrate flavors; this is a natural product of old vines that is enhanced by planting vines close together.
• Low intervention wine making. The winery does not cold soak, use enzymes, no fining, no filtering, no sulfites; no added sugar or acid, no racking of the lees or extended maceration or malolactic inoculation. Fermentation is done at higher temperatures to extract maximum color (certainly true with the darkness of this wine), concentrate flavors, and increase complexity.
• Make a New World wine that is fresh, ripe, expressive, and big but also has Old World elegance, structure, acidity, and balance. Tall order, Achaval Ferrer succeeds—its higher end wines regularly score in the 96-plus stratosphere. This entry-level bottle may not soar to those heights, but it is tasty, correct, and enjoyable.
Achaval Ferrer Malbec Mendoza 2015 is the reason you drink malbec wines. Delicious, nice complexity and depth for the price. $22-25
Photos: Achaval Ferrer winery; Achaval cellar; Achaval Silvio Alberto.