Pale straw color; apricot, peach, yellow apple on the nose; lemon, pineapple, honey, peach, banana on the palate.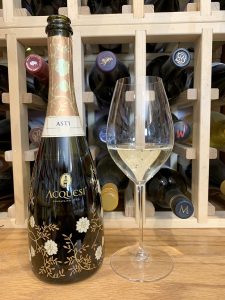 Moderately sweet; crisp, ethereal, balanced. A crowd-pleasing effort that does not go over the top with its sweetness. It has 95 g/L of residual sugar, which puts it in the "doux" category. You have to get to more than 120 g/L to reach the "very sweet" category. This also delivers 3.25 pH, which is excellent contrapuntal to sweetness.
Made with moscato bianco di Canelli grapes. The must is cold fermented to deliver balance and perlage, then spends up to a month on the lees to gain creaminess and complexity. Bubbles come from the Martinoot Method (tank method), which is similar to how prosecco is made. Acquesi is a brand of Cuvage, which traces its roots to 1952. Cuvage notes it recently—2011—re-launched the Acquesi brand with its iconic Liberty Style design that dates back to the early 1900s from the city of Turin, Italy. "Our unforgettable floral pattern symbolizes this period's elegance and joy."

Asti Spumante is Italy's largest wine production appellation and a UNESCO World Heritage Site. The region is located in the southeastern part of the Piedmont, which is in northeastern Italy. The town of Asti is southeast of Turin, southwest of Milan, and northwest of Genoa. Much of the sparkling wine in the region is made from moscato bianco. The alcohol content is low, usually between 7 and 9.5% ABV. This effort is 7% ABV. Do not confuse this with moscato d'Asti, which has even lower alcohol levels and is only slightly sparkling. This wine, as do other Asti spumante wines, has a vigorous perlage.
Acquesi Asti DOCG is a smooth, sweet, very fruity delight in the moscato d'Asti tradition. Very light and fresh with acidity to balance the moscato sweetness. Pours from a lovely bottle decorated with white flowers and green leaves. This is fun wine, well made, light alcohol, excellent QPR (quality-price ratio). Delightful as an aperitif and as a solo sipper. Pair with oven-fried chicken; light fish; sushi; spicy Asian cuisine; Cobb salad and other garden salads; pastries; stuffed baked fruits; fresh fruit and cream dessert, or just enjoy as the dessert by itself. $13-17