Medium straw color; orange blossom, fruit flowers, jasmine on the delightful nose; white peach, citrus, grapefruit, Meyer lemon, lime, pinch of salt on the palate.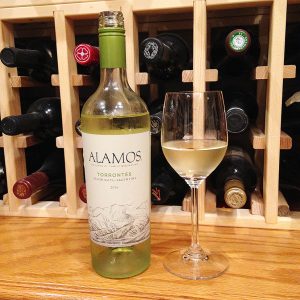 Dry (1.25 g/L), but definite fruit sweetness from the vivid fruit; good acidity (3.43 pH)—a key measure of torrontés quality. Rich, creamy in the mouth with pleasingly long, clean finish. Wonderfully refreshing, easy drinker with depth and complexity. Torrontés sometimes is called the chardonnay of Argentina, which has some validity, but with its good acidity and fruit sweetness—especially after the initial attack—it also could be called the dry riesling of Argentina or even the pinot grigio of Argentina. As appreciation for torrontés spreads, the facile comparisons won't be needed. People will known and appreciate torrontés for what it deliciously is.
This is another astonishing Bodega Catena Zapata effort. It comes from the high altitude Cafayate region of Salta, several hundred miles northwest of the better known Mendoza region. Salta vineyards are among the highest in the world at 5,000-6,000 feet. Torrontés is the signature white grape of Argentina, possibly brought to the country in the 18th century by Spanish Jesuits. Classic elements include great fruit and acidity—a factor of the altitude and diurnal temperature changes—and a flamboyant nose and white peach and grain of salt on the palate.
Bodega Catena Zapata produces Alamos. Gallo owns distribution rights for this wine in the United States, so you should be able to easily find this (and other Alamos varietals). You might notice some name issues—the wine distributed by Gallo in the U.S. is labeled Alamos (Spanish word for poplar/cottonwood tree); the name of the winery is Bodega Catena Zapata (bodega is Spanish for winery). Faithful followers of my reviews already know of my high regard for Bodega Catena Zapata—one of the three pinnacle producers in Argentina. Alamos is a division of this major maker, even if the label does not proclaim it.
In what happily is no longer surprising, this effort is female directed. The Catena family has made wine in Mendoza since they immigrated from Italy more a century ago. Dr. Nicolás Catena Zapata and his daughter, Laura, run the winery today, with Laura now in the principal role. The Catenas are winemakers and much more. Nicolás Catena was a professor of economics at UC-Berkeley in the 1980s and Dr. Laura Catena is an emergency room physician with degrees from Harvard (magna cum laude) and Stanford before she returned to the family wine business. She splits her time between doctor duties in California and winery leadership in Argentina. Women multi-task so much better than men.
Lucia Vaieretti is the Alamos winemaker. She is a second-generation winemaker who worked a dozen years with the Catena family before taking on Alamos responsibilities. Lucia is a mother with four children; her husband also is a winemaker. The Alamos brand ambassador and sommelier is Tatiana Nessier. Nessier is fluent in English, Spanish, and Portuguese and studied to be a sommelier at the Escuela Argentina de Sommeliers. She represents Alamos at the winery and internationally.
Alamos Torrontés Salta 2016 is a delight to drink and extremely versatile. It has enough character to work as a solo sipper only paired with a bit of cheese and maybe some wine crackers, but it will shine in a pairing with spicy, flavorful foods such as curry, Thai cuisine, also with Argentinian empanadas. $10-13
Alamos Wines website
Bodega Catena Zapata website
Catena Institute website with great video of Dr. Laura Catena