Deep ruby color; bacon, blackberry, olive on the nose; blueberry, blackberry jam, plum, sour red cherry, olive, tapenade on the palate.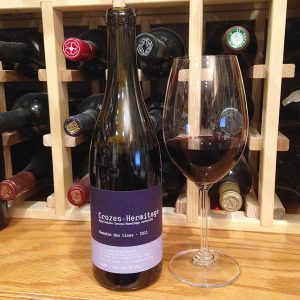 Dry; significant tannin; good acidity with minerality; nicely balanced; medium body; 100% syrah. The bacon nose and bacon flavor and the olive nose and olive flavor can be characteristic of syrah and certainly are present here. Bacon especially presents on the pop-and-pour nose in this effort. Don't panic on the first sniff, this is just the start of a fascinating wine journey. And who doesn't like bacon?
This wine will not be for everybody; while others will love it. It is savory, not sweet. It has assertive tannin and some sour cherry bite (in the mid-palate), especially early in the story. It very clearly benefits from decanting, which knocks off some of the tannin and sourness while not eliminating them. I can really see this working with a grilled, well-marbled steak—its assertiveness and tannins would play well with the fats, its muscular flavors interact nicely with the rich meat flavors.
Some fruity sweetness makes an appearance on the finish after decanting and time in glass, a really attractive feature and further indication this is complex, wait-for-it-to-evolve wine. Surprises like this are what set complex, sophisticated, elegant wines apart from commodity pours. Drinking this is participating in an intriguingly layered drama where each sip contributes to a building story line.
The wine is made in the Crozes-Hermitage area of the northern Rhône. Maxime Graillot's operation is adjacent to his father Alain Graillot, one of the celebrated players in Crozes-Hermitage. Maxime acquired the property in 2004. Maxime's grapes come from 18-to-25-year-old vines on gravel and alluvial stones that are fast draining and low in clay, much like his father's plots, but Maxime deliberately set out to make wines that are different from dad's.
Maxime emphasizes low yields for intense flavors—he certainly got that with this—and no use of herbicides or other artificial elements. The soil is only worked with plows to encourage deeper roots. Fermentation occurs primarily in concrete tanks to produce a wine that is softer than wine fermented in stainless steel but not as woody as oak fermented juice. There also is full malolactic fermentation. Aging occurs in Burgundian barrels, one-third new, one-third second use, one-third third use. Result is only suggestion of oak; vanilla and oak spice very subdued, if there at all.
Domaine Maxime Graillot Crozes-Hermitage Domaine des Lises 2011 is a step up in the world of wine appreciation. In the northern Rhône, Côte-Rôtie wines are considered the "feminine" (French language even reinforces that), while Hermitage is the manly, burly expression of syrah. This wine does nothing to dispel that broad stereotype. If you are a neophyte nipper moving up from white zin and moscato, do not try this at home, this is a review by a professional wine drinker. If, however, you are expanding your palate and your adventure into the amazing journey of fine wine, Domaine Maxime Graillot Crozes-Hermitage Domaine des Lises is a place you should visit. $26-31