Deep ruby color; blackberry and dark fruits, vanilla on the nose; blackberry, blackcurrant, chocolate, tobacco, oak spice on the palate.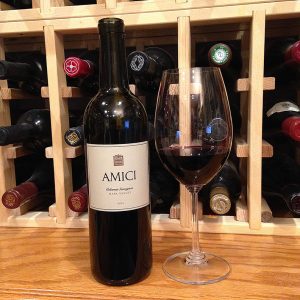 Rich, opulent old-style Napa cab with plenty of oak—22 months in 60% new French oak barrels—but the wood does not overpower. More and more winemakers have learned the perils of too much oak, particularly in premium offerings. You still get pancake makeup oak on the lower shelves, but this is definitely not that. It is not a fruit bomb, either. Nice balance and weight; well structured; medium-full body; nice, juicy fruit; silky tannins. Long, clean, polished finish. A really nice bottle of wine.
Blend of 80% cabernet sauvignon, 12% cabernet franc, 4% petit verdot, 2% merlt, 2% malbec. Grapes came from Napa Valley floor (60%) to provide the ripe fruitiness and from Napa's mountain vineyards (40%) to provide structure and depth.
Amici is Italian for "friends", and that is the genesis of the Amici story. In the 1990s, a group of friends with a passion for good wine crushed a few tons of Napa grapes for their personal cellars. "It all got started because we wanted to make a wine that we could sit around and share with our friends and be proud of," according to co-owner John Harris. They were so successful, they started producing wine for public distribution the next year. Bob and Celia Shepard are co-owners with Harris. "For all of us, wine is part of socializing, being with people, having dinner—when we'd get together, we'd always share a bottle or two, and it solidified the friendship," Celia explains. Bart Woytowicz also has ownership participation.
In 2011, after producing wine in other's facilities for years, Amici Cellars found a winery to call home when they purchased the T Vine Winery in Calistoga. The winery has developed the property into a venue where friends can enjoy wine with friends. That was the mission from the start.
Amici Cellars Cabernet Sauvignon Napa Valley 2014 is a sophisticated, lush, layered, ripe fruit and deftly done oak at a very nice price point for wine of this sophistication, structure, and quality. $45-50