Medium gold color; peach, stone fruits, whiff of oak on the nose; yellow apple, peach, pear, melon on the palate.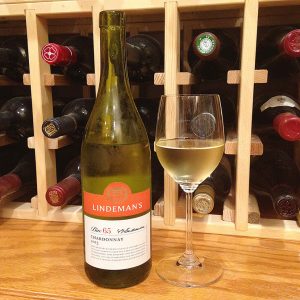 Vivid fruits, medium body, dry with fruity sweetness, nice acidity (3.36 pH), French oak and spice but not overdone. Clean and crisp, not an oak monster butter bomb by any means. Ripe fruit stands out rather than winery legerdemain. Clean finish with spice notes and the good acidity providing a pleasant lift. Nothing complex or challenging, just a nice bottle of tasty and fun chard at a fantastic price.
Dr. Henry Lindeman started the winery in the Hunter Valley of New South Wales, Australia, in 1843 and began exporting wine in 1858 (after surviving a cellar fire set by an arsonist in 1850). Lindeman's original vineyard no longer exists and the winery now has vineyards at several locations in South Australia. Today, the winery is part of the Treasury Wine Estates portfolio. Treasury Wine Estates is one of the world's largest wine companies and is listed on the Australian Securities Exchange (ASX). Other notable sister brands include Penfolds, Wolf Blass, Beringer, Gabbiano, Stags Leap, Sterling Vineyards, Beaulieu Vineyard (BV) and Rosemount.
Lindeman's began in its Bin series of wines in 1985. It features consistent, very affordable wines in different varietals. The Bin series wines are more than serviceable, even if they lack distinction—which is what you expect from a bottle costing less than $6.
Accept Lindeman's Bin 65 Chardonnay for what it is, and you clearly will be pleased. This is tasty, very easy to drink, nice fruits. The 2015 season in southeastern Australia had heat in the beginning, rain early, then dry times and cooler temperatures, conditions well suited to deliver ripe fruits. This reflects that vintage journey and presents as a huge value-for-price play at $4-6.