Deep, bright gold color; yellow apple, lemon, orange blossom on the nose; yellow apple, lemon, pineapple, pear, very subtle oak spice and butter on the palate.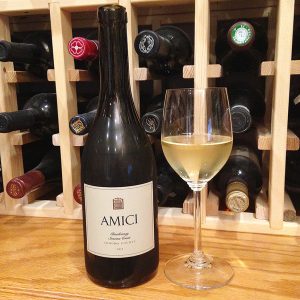 Dry; medium body; 100% chardonnay grapes, most from Russian River Valley vineyards; good acidity. Two-thirds of the fruit experienced malolactic fermentation, 10% was barrel fermented, all the juice received barrel aging, 30% in new French oak. The result is a mellow easy drinker that is clean, smooth, and refreshing. The oak influence is decorously present in the background, not dominating the experience.
Amici is Italian for "friends", and that is genesis of the Amici story. In the 1990s, a group of friends with a passion for good wine crushed a few tons of Napa grapes for their personal cellars. "It all got started because we wanted to make a wine that we could sit around and share with our friends and be proud of," according to co-owner John Harris. They were so successful, they started producing wine for public distribution the next year. Bob and Celia Shepard are co-owners with Harris along with another friend, Bart Woytowicz.
"For all of us, wine is part of socializing, being with people, having dinner—when we'd get together, we'd always share a bottle or two, and it solidified the friendship," Celia explains. Experienced Napa veteran Anthony "Toni" Biagi and Bobby Donnell are the winemakers, with Biagi taking the lead at Amici and Donnell at the sister brand Olema. Biagi says he always has been a fan of sauv blanc. "I've made the varietal my whole career," he told a newspaper interviewer.
In 2011, after producing wine in other's facilities for years, Amici Cellars found a winery to call home when they purchased the T Vine Winery in Calistoga. The winery has developed the property into a venue where friends can enjoy wine with friends, further fulfillment of their original mission.
Amici Cellars Chardonnay Sonoma Coast 2015 has such clean, approachable, balanced flavors that it can easily be sipped solo or simply paired with nutty cow's milk cheese or moderately aged goat's milk cheese and wine crackers. Also pairs with shellfish, lighter fish, chicken, pasta with creamy white sauce, creamy vegetable soup. Nice value for the quality this bottle delivers. $25