The Paso Robles AVA (American Viticultural Area) wants respect and assiduously works to earn it.
Paso Robles is located in San Luis Obispo County, halfway between San Francisco and Los Angeles, on the northernmost and western side of the Central Coast wine country. Some vineyards are only a dozen miles from the ocean on the east side of the Santa Lucia Mountains.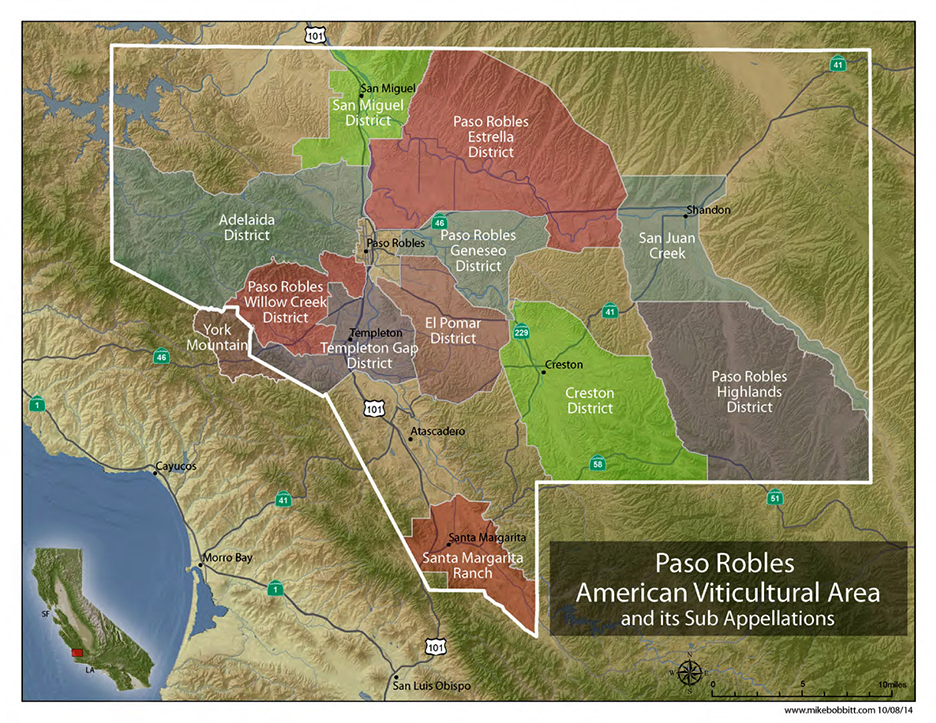 The AVA is huge—614,000 acres—with 32,000 vineyard acres and more than 200 wineries. As a result, it is divided into 11 sub-areas. It is the fastest growing AVA in California.
Once it was dismissed as a mass production slum known for colossally alcoholic, tannic zinfandels. Paso Robles was a place where outlaws could hide (Frank and Jesse James's uncle Drury founded the town of Paso Robles around 1869), where William Randolph Hearst built his Xanadu castle, where James Dean meet his end in an auto crash. Today, the area is one every serious wine drinker should explore.
The AVA has unique attributes. Paso Robles (Pass of the Oaks) has the highest diurnal (day/night) temperature variance of any U.S. viticultural area, thanks to night cooling effects of the nearby Pacific. Daytime temperatures reach high 90s and low 100s, while nights often cool into the 50s. That is a really big deal for grape growers, yielding ripe fruit and great acidity at the same time. Wine magic.
Paso Robles also has wonderfully diverse soils—ancient sea bed, rocky alluvium, shale, volcanic, and granitic. Thus 11 sub-regions. The Santa Margarita Ranch vineyard in southernmost reach of the AVA has all five soil types in its various plots.
There was a time 20 or so years ago when "Paso Robles" meant "whoa." Those days are long gone. Today, Paso Robles on the label means "go."
Tasting notes:
• Ancient Peaks Sauvignon Blanc Santa Margarita Ranch Paso Robles 2016: Very pleasing food-friendly pour; peach, citrus, lime zest. $14-17
• Peachy Canyon Winery Westside Zinfandel Paso Robles 2014: Classic Paso Robles zin, roaring fruit, easy drinker. $18-22
Last round: At a wine bar, I stupidly told a woman she would be more beautiful if she took off her glasses. She removed her glasses, looked at me, and said, "You look a lot better now, too."
Email Gus at wine@cwadv.com. Facebook: Gus Clemens on Wine. Twitter: @gusclemens. Website: gusclemens.com.