Deep purple color; pomegranate, black cherry, tobacco-leather on the nose; black cherry, mocha, vanilla on the palate.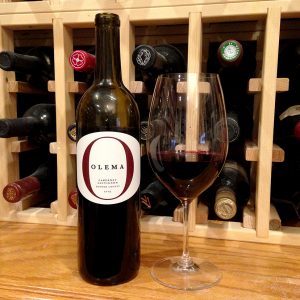 Deep purple color; pomegranate, black cherry, tobacco-leather on the nose; black cherry, mocha, vanilla on the palate.
Dry; admirably behaved tannins that contribute to the pleasure; balancing acidity does nothing to interfere with the easy drinking elements. There is softness on the palate you don't expect in a cab, but this is not flabby or flaccid. Blend of 97% cab and 3% petite syrah (to contribute to the darkness of the color).
Well-managed oak: 60% in new French oak barrels for 16 months certainly makes a wood statement in the wine but avoid the horrors of the oak monster. If the fruit is good, you don't have to slather on the pancake makeup of oak, so thankfully Amici steered clear of that abomination.
2014 was the third consecutive excellent vintage for Sonoma, and this wine reflects that gift from God and nature. Despite well-reported drought, rains in Amici's vineyards gave life-enhancing soakings in February and March. A mild spring and what the maker describes as a "perfect summer" brought grapes to ripeness early, intensifying aromatics and complex fruit character. The result is a terrific wine for the price.
Olema means "coyote" in Miwok and honors the Miwok Native Americans who called Sonoma their home. Amici puts emphasis on its names. Amici is Italian for "friends," and that is genesis of the Amici story. In the 1990s, a group of friends with a passion for good wine crushed a few tons of Napa grapes for their personal cellars. "It all got started because we wanted to make a wine that we could sit around and share with our friends and be proud of," according to co-owner John Harris. They were so successful, they started producing wine for public distribution the next year. Bob and Celia Shepard are co-owners with Harris along with another friend, Bart Woytowicz.
"For all of us, wine is part of socializing, being with people, having dinner—when we'd get together, we'd always share a bottle or two, and it solidified the friendship," Celia explains. In 2011, after producing wine in other's facilities, Amici Cellars found a winery to call home when they purchased the T Vine Winery in Calistoga. The winery developed the property into a venue where friends can enjoy wine with friends, further fulfillment of their original mission.
Anthony "Toni" Biagi and Bobby Donnell are the winemakers, with Biagi taking the lead at Amici and Donnell at Olema. Donnell is a native Texan who graduated with a bachelor's in restaurant management from Texas Tech University in Lubbock—the heart of Texas grape growing, by the way—then earned a UC Davis winemaking certificate in 2010. Donnell says his greatest joy is pulling cork from his final product: "It's knowing that all the energy and effort you put into it has made it turn out exactly they way you want it to be, that the time, energy and effort has paid off."
Amici Olema Cabernet Sauvignon Sonoma County 2014 is a gem of a wine from vineyards blessed with weather luck. That's how it works with wine. Pair with grilled meats, beef Wellington with cab reduction, braised beef short ribs, bacon-wrapped tenderloin of beef, herb-marinated lamb skewers, garlic chicken wings, Angus sliders, various cheeses—include blue cheese. $22-24