Pale straw-yellow color; peach, citrus, wet stone on the nose; pear, tropical fruit, lime zest, minerality on the palate.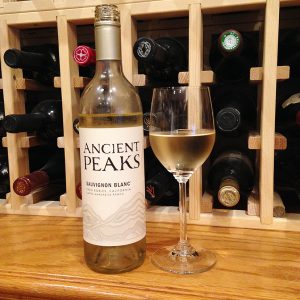 Dry; nice acidity (3.48 pH) without reaching the knife-on-the-tongue sharpness sauv blanc can reach. Instead, this is round, smooth, clean, refreshing, tasty. Cold soaking and stainless steel fermentation allow the fruit to flourish. Pure fruit flavors and acidity dominate on the initial attack; racy finish with lime-lemon and minerality showing more vividly. Becomes rounder and even more approachable after some air, time in glass.
Ancient Peaks is the vision of three longtime Paso Robles ranching families—the Filipponis, Rossis and Wittstroms. Rob Rossi acquired Santa Margarita Ranch in 1999. His friends Doug Filipponi and Karl Wittstrom soon joined him. That same year, Robert Mondavi planted the Margarita Vineyard on the ranch under a lease agreement. In 2005, the three families acquired control of the vineyard. They chose the Ancient Peaks name to honor the towering Santa Lucia Mountains that border the vineyard to the west.
The ranch history dates back to the 1770s when it became part of Saint Junipero Serra's famed mission trail. Native Americans lived in the area for thousands of years prior to that. Franciscan missionaries planted the first grapes in the area in the 1780s.
Santa Margarita is the southernmost vineyard in the Paso Robles AVA and is the southernmost of the 11 Paso Robles sub-AVAs. The Santa Margarita vineyard is distinguished by having five different soils within the vineyard—ancient sea bed, rocky alluvium, shale, volcanic, and granitic. The sauv blanc grapes for this effort come from the rocky alluvium soils in the northeast part of the vineyard. Rocky alluvium is a mix of eroded stone and organic materials. The typically lean soils force intensive, deep root growth as the vines struggle to survive. The result is small clusters and intense fruit flavors, along with minerality. All that reflects in this effort.
Paso Robles (Path or Pass of the Oaks) is a rising star AVA. Once dismissed as yet another Central Valley mass production area known largely for massively alcoholic, tannic zinfandels, a place where outlaws could hide with no questions asked, where William Randolph Hearst built his castle, and where James Dean meet his end in an auto crash, today the area strives to take its place among the premier wine regions in the U.S. and is well on its way to achieving that. The AVA is huge—614,000 acres—with 32,000 vineyard acres and more than 200 wineries located in San Luis Obispo County.
J. Lohr is the big dog maker you likely know. Tablas Creek is a leader of the Rhône Ranger charge. The other wineries are up-and-comers like Ancient Peaks and a good scattering of smaller, family operations. Reminds you of Napa and Sonoma 30-40 years ago. Paso Robles hopes the parallels continue. This Ancient Peaks sauv blanc certainly is step in the right direction.
Ancient Peaks Sauvignon Blanc Santa Margarita Ranch Paso Robles 2016 is a very pleasing pour that can serve as an aperitif or starter wine, will also shine with shell fish, citrus shrimp tacos, lemon-herb chicken. $14-17