Pale copper-peach color; nectarine, grapefruit, citrus on the nose; strawberry, peach, Meyer lemon on the palate.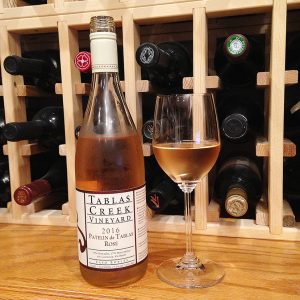 Crisp with mouthwatering acidity and tangy fruit. This is made in classic Provence style using 73% grenache, 17% mourvèdre, 6% counoise, 4% syrah. Grenache and syrah were direct-pressed into stainless steel with minimum skin contact; the mourvèdre and counoise elements came from saigée (bleeding) lots. The grenache provides strawberry and acidity, the mourvèdre and counoise provide color and structure, the small syrah amount adds body and spice.
There is no oak; the acidity is excellent and some salty minerality. The wine grabs the palate immediately on the initial attack, then mellows a tiny bit mid-palate and into a finish where the Meyer lemon and acidity take over. Light-medium body. Clean, balanced.
Tablas Creek is the product of combined efforts of two internationally recognized wine families: the Perrin family, proprietors of Château de Beaucastel in Châteauneuf-du-Pape region of the southern Rhône, and Robert Haas, founder of Vineyard Brands a legendary importer and marketer of wines from around the world. Haas has been managing partner since the founding of Tablas Creek; he manages Tablas Creek with his son, Jason.
The vineyard was established in 1987 with the direct purpose of duplicating Château de Beaucastel Châteauneuf-du-Pape vines in Paso Robles. The 120-acre parcel is 12 miles from the Pacific Ocean in western part of Paso Robles and was picked because the site's similarity in climate and soil pH—in short, a close match to the Château de Beaucastel terroir. They named their vineyard-winery for the small creek that runs through the property. They were earliest leaders of the Rhône Ranger movement in California.
Paso Robles has the highest diurnal(day/night) temperature variance of any U.S. viticultural area, thanks to the night cooling effects of the nearby Pacific. Daytime temperatures reach into the 90s and low 100s, while nights cool into the 50s. Paso Robles has wonderfully diverse soils; Tablas Creek has limestone soils similar to those found in Châteauneuf-du-Pape.
Tablas Creek planted clones from the Rhône region: mourvèdre, grenache noir, syrah, counoise, roussanne, viognier, marsanne, grenache blanc, and picpoul blanc. The first cuttings arrived in early 1990 and underwent to mandatory USDA indexing process to ensure vines were virus-free. Multiplication began in 1993; new clones continue to be imported every year.
Tablas Creek vineyards are dry farmed and seek to achieve maximum expression of terroir. The vineyards received organic certification 2003 and much of the vineyard is converted to biodynamic techniques—a dedicated herd of sheep, alpacas, and donkeys eat down the winter cover crop, fertilize the vineyard with their manure, and mix the manure and work the soil with their hooves.
Tablas Creek Vineyard Patelin de Tablas Rosé 2016 is a very well made Paso Robles version of a Provence rosé (Provence is just southeast from the Châteauneuf-du-Pape region). Excellent acidity and precision of fruit which gets more citrusy with air; terrific potential with food, including salmon, sushi, fried chicken, tapas. $20-23