Pale ruby color; bright red fruits, black cherry, raspberry on vivid nose; strawberry, cherry, plum, blueberry, caramel, oak spice on the palate.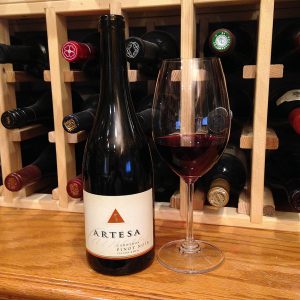 Medium-light in the mouth; vibrantly fruit-forward thanks to three-day cold soak, followed by warming to start fermentation and careful monitoring thereafter. Aged 10 months in French oak barrels, 30% new, so the oak—and malolactic fermentation, too—are conservatively managed. Good acidity (3.63 pH); dry with plenty of fruit sweetness (5.9 g/L)—not the same as sugar sweetness. Time in glass/decanting reduces the fruit attack found when you pop-and-pour, but faithful readers know I almost always prefer the decanted glass over the non-decanted first tasting. Menu's Wine Breather by Norm Architects ($50) is a superb tool for this. I use one on almost every bottle of red I taste.
Artesa was founded in 1991 by the Codorníu Raventós family, owners of wineries in native Spain and Argentina. The family is the oldest company in Spain with a winemaking legacy dating back to 1551 in the Penedès region near Barcelona. At first, the Carneros winery focused on sparkling wines, then turned to Napa's classic still wines—pinot noir, chardonnay, and cabernet sauvignon. The company changed the winery's name from Codorníu Raventós to Artesa in 1997, signaling a new focus on artisan wines. "Artesa" is Catalan word for "handcrafted."
Ana Diogo-Draper is the winemaker. Born, raised, and educated in Portugal, including a BA in agricultural engineering from the University of Évora, she is fluent in English, Portuguese, Spanish, and French and has more than 15 harvest under her belt. Diogo-Draper became assistant winemaker in 2013 and director of winemaking in 2015. She specializes in small lot winemaking and champions responsible, sustainable land management. All Artesa estate vineyards are Green Land Certified by the Napa Valley Vintners Association; all grapes are farmed and harvested by hand. Cover crops prevent soil erosion and create a natural environment for predatory insects, reducing the need for insecticides.
The winery is an architectural treasure designed by famed Barcelona architect Domingo Triay in the early 1990s. Fountains abound and, from an elevated terrace, on clear days you can catch a glimpse of the San Francisco skyline. It is set into the highest hill of the 350-acre estate and kept naturally cool by its earthen construction. The visitor center presents original works of sculpture, painting, and mixed-media by Gordon Huether, the winery's artist-in-residence. The winery itself and its grounds are dramatic works of art. Visit if you can.
Artesa Winery Carneros Pinot Noir 2014 is classic cool-climate Carneros pinot from a signature winery with a legacy dating back 450 years in the Old World. Nice complexity, appropriate use of oak, well-priced for this level of quality. $28-32