Deep ruby color; cherry, oak, licorice, dark fruits on the nose; black cherry, blackcurrant, red fruits, some oak, smoke, and eucalyptus on the palate.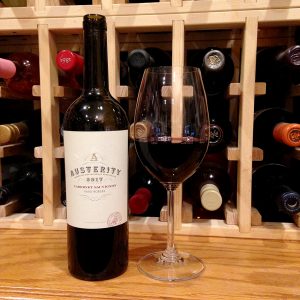 Dry; full body with grippy tannins that struggle to be balanced by acidity (3.81 pH). Not as bold as I expected from the data sheet and description, but it is a fruit-forward Paso Robles wine. There is more tannin and blackcurrant on the finish than in the initial attack and mid-palate. The medium-long finish emphasizes the darker fruits.
To be fair, after a couple of initial pop-and-pour sips for first impression, I decanted and—as happens so often—the result was a smoother, more approachable wine with less of the end-game roughness. The tannin-acidity-blackcurrant bite did not resolve completely, but clearly was ameliorated, and a dollop of mocha appeared. So, once again, I recommend decanting to get the best from a red wine.
Also, to be fair, those tannic cab qualities will serve it well when paired with rich red meats. And further still, this is value-for-price product, not Napa-Sonoma royalty. Paso Robles aspires to compete, at least on some levels, with Napa-Sonoma to the north, and some Paso Robles wineries achieve success. This is what it is, a very drinkable, impressive wine for its price point. You can buy better, more complex wine, but you will pay multiple times this price.

Paso Robles is located halfway between Los Angeles and San Francisco on California's Central Coast. Given AVA status in 1983, the Paso Robles AVA is California's fastest growing wine region—more than 28,000 acres under vines—and the state's largest geographic appellation. As a result, you can get value wines here of value-wine quality, but many other Paso Robles makers are aiming to be included in the Napa-Sonoma conversation, at the least as almost comparable quality at significantly lower price. This is an example. If this was produced in Sonoma, it would cost significantly more.
Paso Robles's strong suit is day-to-night temperature swings, more than any other California appellation. Diverse soils, a long growing season, interesting microclimates all point up for Paso Robles quality and its place in the wine world.
This wine was fermented in stainless steel and barrel aged for six months in American oak. My guess is most of the barrels were new, because there is oak here—not obnoxious, but clearly there. Mark Rasmussen and Steven Decosta are the winemakers.
Austerity Cabernet Sauvignon Paso Robles 2017 is quality cab for the price that significantly improves with decanting. Vivid dark and red fruits, enough tannin to hang with big red meats. Definitely advances the argument that Paso Robles wines are more than worth finding and trying, with superb quality-for-price plays. Pair with grilled meats; at this price point you can splurge with burgers, sliders, pizza; bold pasta dishes; hearty root vegetables; $15-17