Medium gold color; nectarine, apple on the nose; yellow apple, white peach, spoon of lemon meringue, honeydew melon, honeysuckle on the palate.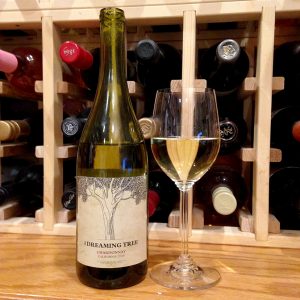 Dry; medium body; balanced with some acidity and crispness, but not cutting or tart—more creamy, in fact. Very fruit-forward; 13.5% ABV. Very pleasant, easy drinker. Touch of oak, but definitely not an over-oaked, over-malo California oak and butter bomb. Hint of vanilla mid-palate and beyond, but very well played. The Dreaming Tree did oak and malo right to deliver a tasty, easy going product made from Central Coast grapes.
This is not an outstanding chardonnay with clever features and depths to explore. It is what it says it is with the price—an extremely serviceable, pour it any day of the week, lots to enjoy and nothing to dislike chard. Exactly right for those who want their wine to complement a meal or work solo.
The Dreaming Tree began as a collaboration between South African musician Dave Matthews and acclaimed Simi-based winemaker Steve Reeder. As you might expect from a rock star and rock-star winemaker alliance, this is environmentally friendly effort, with lightweight bottles, 100% recycled paper labels, black ink printing (no bleaching), recyclable corks, and Wine Institute certification as sustainable agriculture. Rock on and enjoy with a clean conscience. The company is named after The Dreaming Tree, a track from the Dave Matthews Band "Before These Crowded Streets" 1998 album. The wine corks have different Dave Matthews Band lyrics on each cork.
Sean McKenzie is the Dreaming Tree winemaker today. McKenzie is a New Zealand native who has worked at wineries around the world. He replaced Steve Reeder as the lead winemaker in 2014 and carries on the founding vision.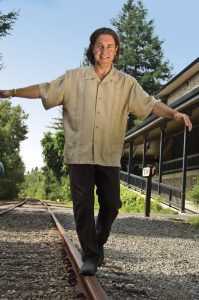 The Dreaming Tree is a brand of Constellation Brands, the largest winemakers in the world. Fortunately, Constellation usually allows their acquisitions to continue to do what they did to make them so attractive in the first place. That seems to be what is going on here. Bravo.
The Dreaming Tree Chardonnay California 2016 will please a lot of people, especially those who enjoy straightforward, good fruit, easy drinking wine. Delightfully smooth, seamless, clean, tasty. No excess either to oak or butter, nor to tartness and austerity. Pair with cut peaches; shrimp; scallops; crab cakes; avocado and tuna tapas; cream chicken; veal chops; gruyere cheese. $14-15