Medium ruby color; black cherry, leather, raspberry on the nose; tart cherry, raspberry, cranberry, dried herbs, oak, some earth on the palate.
Dry; smooth, simple pinot with adequate acidity (3.62 pH). Light but sticky tannins. Fermented in stainless steel, then 10 months in 100% French oak; oak clearly is there, but not excessive. Medium mouthfeel. Gets a bit rustic and earthy on the finish, maybe even austere? Those qualities work against it being delicious easy drinker, but helps it when paired with food.
This competes in the less-than $20 niche with monster makers such as Mark West and holds its own. This segment does not achieve the ethereal excellence of Willamette Valley, Burgundy, or some California efforts, but it comes in at half the price. The alcohol is 14.5% ABV, which is a tell that this is mass-market pinot (25,000 cases). Don't drink this to experience pinot noir, drink it because you enjoy this style of wine. My guess is this is not 100% pinot noir. You only need 75% to qualify for putting pinot noir on the label.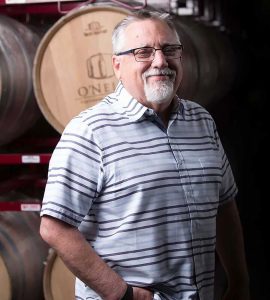 Mark Rasmussen and Steven Decosta are the winemakers at Austerity and Line 39. The winery uses grapes from throughout California for its large portfolio of wines; the pinot noir grapes came from Monterey, the Central Coast of California.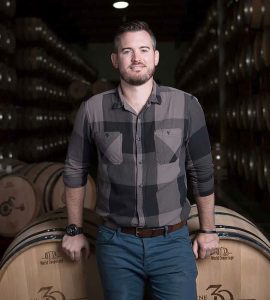 Austerity is a brand rather than a specific estate. There appears to be no winery or vineyards for the general public to visit—or to photograph. The Mark Wine Group represents Auster. From the Mark Wine Group website: "Founded in 2007, and based in Austin, Texas,  The Mark Wine Group is a family-owned, fine wine sales & marketing agency; representing family-owned and independent wineries and importers, with a clear and simple vision; to provide the premier selection of quality wines to your favorite hotel and restaurant companies throughout the United States."
The wine is made by O'Neill Vintners & Distillers, which claims to be the leading California producer of premium brands, bulk wine, brandy, and spirits.
Their website claims: "Leveraging our vertically integrated vineyard, winery and bottling operations, O'Neill Vintners provides the highest quality products and service at an exceptional value.
O'Neill Vintners was founded in 2004 by Jeff O'Neill, former CEO of Golden State Vintners and third generation member of a California winemaking family with industry roots dating back to 1934. From grape supply through wine processing to bottling services, O'Neill is recognized as the preferred outsourcing partner for national retailers and some of the largest adult beverage brands in the world. Today, O'Neill Vintners has grown to become the 7th largest winery in California and has earned a reputation as one of the premier commercial wine producers in the business."
Austerity Pinot Noir, Monterey 2017 is a commodity pinot noir and a brand rather than a specific winery or place, but it succeeds at being what it is. This is not an outstanding expression of pinot noir, but it is a wine you can enjoy with food at a price you can afford. It has bit of an edge with tartness and some rusticity, which has an audience, but don't come to this expecting a smooth, soft, easy drinker. It is named Austerity, and it delivers some austerity. Pair with usual pinot noir suspects, but edge toward more marbled red meats, rich salmon steaks, sharper cheeses. $16-17