Medium gold color; yellow apple, pear on the nose; yellow apple, white peach, lemon, lime peel on the palate.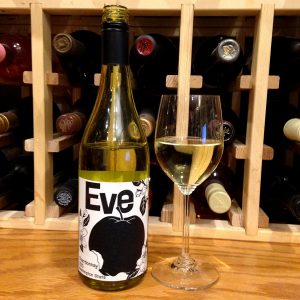 Dry to off-dry; bright, tangy, creamy easy drinker. Medium body with nice texture and balance; good acidity and touches of minerality. Only hints of oak and butter, my guess is mostly or only fermented in stainless steel. It also appears only a limited portion of the juice underwent malolactic fermentation, just enough to give it a creamy texture, but not so much to fuzz up the excellent fruit with pats of butter. Much is made of fact this was made by native yeasts; well, they did a good job. I wish the website revealed more, but it does not; 13.5% ABV.
Even after four years, a long time for many chards, this drinks fresh. It is a compromise between the flinty austerity of pure stainless, no malo, picked early for the acidity versus over-ripe, over-oaked, malo butter bombs that gave chardonnay its tarty reputation in the 90s. Charles Smith strikes a nice and welcome balance. If you enjoy pinot grigio, you will enjoy this wine.

Winemaker Charles Smith is a self-taught wine wunderkinder. He started out managing rock bands, including the famed Danish duo The Raveonettes. In 1999, while on a road trip to Walla Walla, WA, he met a winemaker who convinced Charles to start making his own wine. In 2001 he released 330 cases of his first creation. Eight years later, he was named winemaker of the year by Food & Wine magazine. Seattle Magazine named Smith "Winemaker of the Year" in 2010. Wine Enthusiast named him winemaker of the year in 2014.
That is a lot of big-time baubles early and quickly in a career. In late 2016, Smith cashed in by selling his brands to Constellation Brands, world's largest winemaker, for $120 million. Smith remains as a consultant to the brand and retained ownership of K Vintners.
In addition to Charles Smith Wines, other Smith-founded brands include: Sixto, Charles & Charles, Vino, Wines of Substance, Secco Italian Bubbles, and Casasmith. Designer Rikke Horff, a longtime friend of Smith, designs the labels for Charles Smith Wines.
Three tasting rooms demonstrate Smith's Washington embrace: Charles Smith Wines Jet City is located next to main runway of Boeing Field in Seattle; Downtown Walla Walla is located in converted auto-repair warehouse and invites sidewalk seating in Walla Walla; K Vintners Tasting Room is located at the base of the Blue Mountains on historic farmland homesteaded in 1853 and adjacent to a farmhouse built in 1872.
Charles Smith Eve Chardonnay, Washington State 2015 is clean, easy drinker; simple, well balanced, intriguingly satisfying—its straightforward simplicity and pureness is a virtue. Charles Smith let his Washington State fruit do all the talking, a wise choice because this is delicately delicious. Widely distributed, sold in grocery stores, you might get lucky with a discount. Pair with golden squash and sautéed shrimp; grilled halibut with pineapple salsa; lobster, shrimp, crab, scallops; subtly flavored, simply seasoned poultry and pork dishes; risottos and cream-enhanced soups, sauces, pastas. Avoid aggressively seasoned food, spicy food, bitter greens and vegetables, raw tomatoes, olives, tangy vinaigrettes and sauces. $11-13