Deep ruby color; blueberry, raspberry, spice on the nose; redcurrant tang, black cherry, raspberry, blackberry, plum on the palate.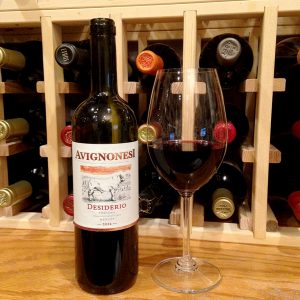 Dry; somewhat awkward and rustic—plenty of redcurrant—on the initial pop-and-pour attack, but nicely smooths out with air in large glass, and especially nicely after decanting. Significant dense tannin for a merlot, likely aided by cabernet sauvignon—this is 85% merlot, 15% cabernet sauvignon. The winery produces a 100% merlot in some years. Decant this wine.
"Desiderio Merlot" is named after the white bull on the label. The massive animal weighed 3,688 pounds when it lived on the Avignonesi estate Le Capezzine at the end of the 19th century. He was the largest bull in Cortona and sired most of the cattle from the local breed "Chianina" in the region.
Easily recognizable by their striking white color, Chianina cattle provide delicious meat for "bistecca fiorentina" (Florentine T-bone steak). Avignonesi honored this majestic animal by naming one of its most emblematic wines after the bull. Desiderio, like the bull, is full, impressive, and sensual, according to the website. This is assertive merlot, just as the bull on the label promises.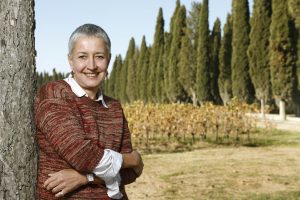 The Avignonesi winery is located near the village of Valiano, very near the historic town of Montepulciano in one direction and the town of Cortona in the other. It consists of vineyards, a villa, chapel, and ancient stone cellars. Virginie Saverys, who comes from a Belgian shipping magnate family, bought the winery in 2009 after its Italian owners, two brothers, could not work together anymore. Virginie quickly moved to take the winery forward using only estate grapes and to focus on Sangiovese, instead of the Bordeaux varieties that find their way into many wines of the region. She also took the vineyards to biodynamic agriculture.
As part of the re-make, Saverys hired an Australian winemaker, Ashleigh Seymour, and to her Australian outlook on the job. "The Italians have an 'It'll work out' attitude about everything," Seymour told a wine writer. "I put some systems in place. The main thing was hygiene. Things can look clean but they may not be clean."
Seymour emphasizes the fruit character of sangiovese: "We like the savory notes but the fruit character is really important. We're always seeking to get really good ripeness for the fruit." After decanting, Seymour's commitment to fruit arrives, but this wine needs some air (or age) to show its best. That said, this is simple, savory, and even a little sour on the nose—not a fruit bomb in any way. It is a merlot that challenges your stereotypical thoughts about merlot, then rewards you for pushing past those pre-conceived notions.
Avignonesi Desiderio Merlot Toscana IGT 2012 falls between Chianti Classico and Montalcino geographically, and the wines are not as formidable as either, but the good ones—like this—are fine food wines with complexity and lightness. Pair with chicken en papillote, roasted tomatoes, beef bourguignon. Merlot does not pair well with fish, leafy green vegetables, or spicy foods. Merlot does pair with lamb burgers, meatloaf, roasted pork loin, veal chops with portabello mushrooms, shepherd's pie, roast chicken with thyme and onions, mushrooms and goat cheese eggplant rolls, and red wine poached pears with triple cream cheese. $50