Deep purple-black color; blueberry, blackberry, vanilla, baking spice on the nose; blueberry, strawberry, boysenberry, some oak on the palate.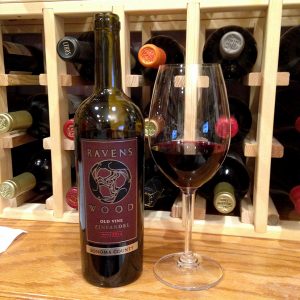 Dry (6.16 g/l RS); good acidity (3.56 pH); very relaxed tannins. Elegant, smooth mouthfeel; round, medium body, unctuously cotes the mouth. Blend of 77% zinfandel, 14% petite sirah, 6% carignane, 3% mixed black grapes. Nice layers of flavors in this entry-level effort from notable and iconic zin master.
Joel Peterson, who started the Ravenswood adventure in 1976, was educated as a clinical laboratory scientist with a degree in microbiology from Oregon State University. He is the son of two chemists. His mom was a nuclear chemist who worked on the Manhattan Project; the same skills made her an excellent cook and tested recipes and helped edit Alice Waters's first cookbook. His dad was a physical chemist who specialized in high-temperature lubricants used in industrial machinery. With this grounding in science, Joel pursued a full-time career in cancer immunology research at a San Francisco hospital. And he dabbled in wine.
On a fall day in 1976, as ravens taunted him from tree branches above, Joel worked feverishly to bring in four tons of grapes before a looming thunderstorm hit. The fruit crushed that night was used for one of two single-vineyard Sonoma County zins—the first wines to bear the signature ring of three ravens in the Ravenswood logo. Those wines won first and second place rankings at the prestigious San Francisco tasting in 1979.
Buoyed by those bona fides and partnered with Reed Foster—a Harvard MBA who managed the green paper stuff while Joel husbanded the red plant stuff—Joel attracted investors, spent five years moving around rented winery space, gained access to a cadre of zin growers, and eventually acquired his own vineyards. In 1991, Ravenswood moved to its own, modern winery on the outskirts of Sonoma.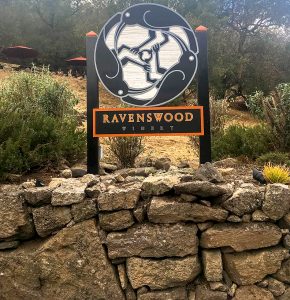 Based on DNA evidence, zinfandel originated in Croatia, perhaps 1,300 before Christ. Its Croatian name as "black grape of Kastel", which hints at how it got is English name. Zinfandel also is genetically identical to primativo, which arrived in Italy from Croatia in the late 1700s.
Zin arrived in California at several locations in the 1850s, brought by New England gold rushers, who knew the grape in New England beginning in the 1820s. In California "Zeinfandall"—as it was first called—soon became the state's most important wine grape. Today, at 54,000 acres, it is California's second-most planted wine grape behind cabernet sauvignon. California's "old vine" zinfandel vines are the oldest wine producing plants in California and among the oldest producing vines in the world.
Ravenswood Old Vine Zinfandel Sonoma County 2014 is very smooth, round, easy drinking, classic old vine California zin from longtime icon in the state's zinfandel story. Pair with braised beef, barbecue, leg of lamb, turkey, lasagna, cannelloni, spaghetti and meatballs, tuna, beef stew, chili, pizza, aged cheddar and aged gouda, parmesan cheese. $15-19