Deep gold color; yellow apple, lemon on the nose; yellow apple, sour lemon, melon, dash of vanilla on the palate.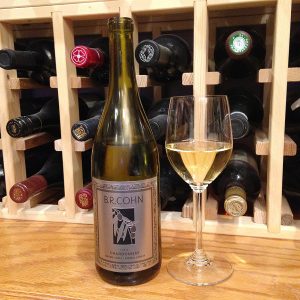 Heavy, creamy in the mouth with malo and oak balanced by good acidity (3.58 pH) for this style; on the outer edge of dry with some fruit sweetness (6.1 g/L). Smooth, easy drinker, made in popular oak, big California chard style, but adroitly does not take it to the excess that spawned the ABC (Anything But Chardonnay) movement late in the last century. This is very nicely done for this style of chardonnay. It will pleasure many palates.
The winery has pop musical culture back story. The original owner, Bruce Cohn, is more famous as the longtime (more than 40 years) manager of the Doobie Brothers band. Cohn has a music heritage—his father sang Italian arias and mom sang with Frank Sinatra in the Chicago nightclub scene. In 1974, Cohn purchased an old dairy in Glen Ellen in Sonoma to balance his Doobie Brothers life. He became involved in the winery and olive ambiance of the property (it is called Olive Hills Estate), first selling grapes to other vintners, then founding B.R. Cohn Winery in 1984. In 1990, he began producing the first single-estate olive oil in California in more than a century. Wine and olive oil are classic marriages, and the property continues to produce both today.
The winery famously employed some iconic winemakers—legendary Helen Turley and Merry Edwards for starters. In 2015, Cohn sold the wine operation to Vintage Wine Estates, although the Cohn family continues to live on the property. Cohn also continues to manage the Doobie Brothers—"Listen to the Music," "Long Train Running," "Black Water," the hits go on and on.
B.R. Cohn Chardonnay Sonoma Coast Silver Label 2015 is very well done in this style, which was all the rage in the 1980s and 1990s, and justifiably is coming back today, although thankfully dialed back from its most flamboyantly massive oak and tub of butter days. This much more refined effort works as a glass to drink solo at a cocktail hour wine, also will work well paired with chicken, especially dishes with creamy sauces, shell fish, and salads. You can also pair with buttery popcorn while binge-watching Netflix. Or listening to Doobie Brothers in a nostalgia immersion. $17