Medium gold color; quince, yellow apple, plum, honey on the nose; yellow fruit, honey, lemon, pear on the palate.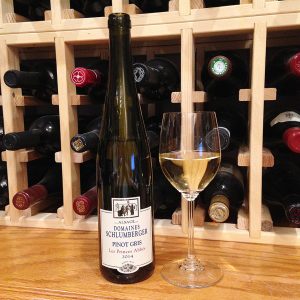 Lively and vivacious in the mouth with a fascinating interplay of medium dryness, honey hints against a background of delicate bitterness. Rich, opulent, medium body. Satisfyingly long finish.
The label indicates this is on the dry side or medium dry (off dry), but the fruitiness and honey hints at sweetness (even if the residual sugar is low); excellent acidity plays well with the fruit. Pure, precise, excellent entry-level Alsace pinot gris.
The Schlumberger family established the vineyard in 1810; they are now in their sixth and seventh generations of stewardship of the Alsacian vineyards. The almost 350 acres of vineyards are located on the steep hillsides of the Vosges (mountain range in northeast France next to the Swiss border), with some slopes reaching 50 degrees of slope; slopes face southwest, south, and southeast for superb sunlight exposure. Horses are used in the vineyards because tractors cannot manage the inclines. Because of the topography and soil, Schlumberger has much lower yields than other wine growers in the region, a very good thing when the grapes come to the winery.
Les Princes Abbés is Schlumberger's entry-level offering, but this is entry-level for a winery that produces high quality, higher-end wines, so "entry level" is relative term here. Production is only 700,000 bottles a year, and the wine is only sold in better restaurants and quality wine-liquor stores; 65% of the production is made for export.
Domaines Schlumberger Pinot Gris Les Princes Abbés 2014 is well-done, nice-value Alsace pinot gris, which is different from pinot grigio from Italy and pinot gris/grigio from U.S. and Australia even though it is same grape. Terroir and winemaking make the difference again. Delightful effort, worth finding. $19-21