Pale yellow-straw with hints of green color; stone fruits, green apple on the nose; white flowers, green apples on delicate nose; green apple, pear, peach, hint of honey on the palate.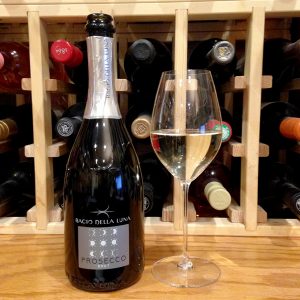 Brut, on the border of extra dry; fresh, very simple with nicely sharp acidity and tiny bubbles perlage. Qualifies as a "diet Prosecco" because of low sugar content—11 grams or less of residual sugar. Pleasant if not spectacular, will shine as an innocuous aperitif that will be appreciated by those who want to politely sip a sparkling that will not challenge them. 100% glera grapes.
Roberta Deflorian is the director of Bacio della Luna. She comments on her approach: "Beauty is in the flavor of what we love, live and feel. Bacio della Luna wines celebrate every single moment of this beauty, with elegance and harmony, expressing the fine quality that makes every moment special and unforgettable".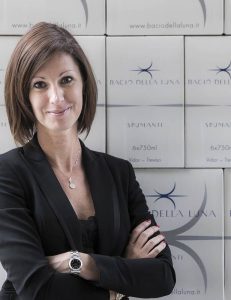 Dario Dellamaria is the oenologist and plant manager; he comments: "Bacio della Luna wines stands out the relationship between nature and human work. A unique link typical in these hills, not easy to cultivate but able to produce outstanding grapes that tell, with their scents and aromas, the history and the charm of this terroir".
The key to this wine is its simplicity. At a special event it will not make any attempt to steal the show. It is made in Vidor, the heart of the Prosecco Superiore vineyards and is part of the Schenk Wine Group. Bacio della Luna means "kiss of the moon."
Bacio della Luna Prosecco Brut NV is very simple bubbly that will offend no one. Low alcohol and low calorie/sugar. Non-wine drinkers can enjoy this, which makes it marvelously versatile as an aperitif or for toasting at weddings and other special events; the price doesn't work against it either. Best as an aperitif, but will pair with shellfish and lighter seafood-fish. $14-16