Very deep purple color; blueberry, plum, oak on the nose; black plum, blackberry, raspberry, blackcurrant, bell pepper, oak, vanilla on the palate.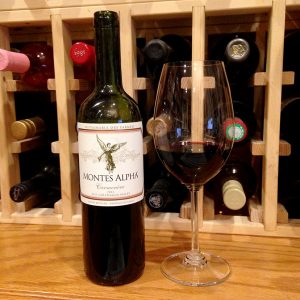 Dry; medium-full body; coffee, peppercorn, a chip of chocolate and smoke on mid-palate through the finish; rich and ripe; firm but not obnoxious tannins balanced by good acidity (3.62 Ph). Carménère sometimes is called the Chilean merlot—half of the carménère in Chile was mis-identified as merlot in the past—but this is stouter stuff than typical soft and mellow commodity merlot. As a result, it can pair with aggressive red meats and sauces.
Very significantly benefits from decanting, in fact the winery recommends 30 minutes. I find my Menu Wine Breather decanting system does it faster, but there is a bright line difference between the pop-and-pour and the decanted sips no matter how you get there. Almost all carménère benefits from decanting. Shoot, in my book, almost all red wine benefits from decanting, as longtime readers of this website know. carménère is the poster child of this phenomenon.
This is blend of 90% carménère and 10% cabernet sauvignon; 55% of the wine aged for a year in first-use French oak, and the oak influence is there but there is no oak monster lumbering through this Colchagua Valley effort. As my tasting continues, I am struck again at how much this benefits from decanting. It turns from a harsh and disjointed pop-and-pour into a much more refined and tasty delight that could be mistaken for an aggressive right bank merlot Bordeaux effort. It continues to be dark and assertive through the nicely long finish.


Viña Montes is a Chilean success story. It began in 1987 with founders Aurelio Montes and Douglas Murray, both experienced wine professionals. They were joined the next year by Alfredo Vidaurre and Pedro Grand, who brought business skills. From the beginning, Montes wanted to build itself without help of non-Chilean experts and to focus on high quality wines with a large export focus. Today, Montes sells in more than 100 countries world wide. When Montes began exporting, only 13 other Chilean wineries sold outside Chile. Today, the number is more than 200.
Viña Montes asserts wine making is 80% in the vineyard and 20% in the cellar, which is excellent approach and is married to sustainable agriculture. Harvest at the precisely correct time is a particular emphasis. Viña Montes dry farms its vineyards, reducing water use by 65% over earlier vintages. They emphasize responsible waste management, deep research into sustainable practices, and social responsibility. They obtained Level A in GRI sustainability in 2012 (for 2011 vintage) and maintain it today.
Viña Montes Alpha Carménère Colchagua Valley 2013 is a significant player on the world stage, offering an alternative to merlot, playing well with the cab-malbec crowd for red meat eaters. Pair with red meats, pork chops, lamb chops. spaghetti with Bolognese sauce, mushroom ravioli, turkey with heavy sauces, chili, roasted meats in general—including chicken—and anything spiced with cumin, burgers and sliders, pizza. $18-23