Deep ruby color; red fruit, cedar, spice on the nose; black cherry, plum, blueberry, blackcurrant, blackberry, chocolate, minerality on the palate.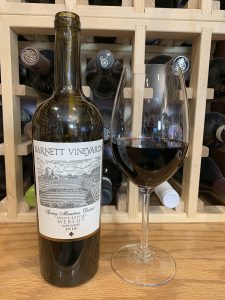 Dry; soft, supple tannins with some acidity as you would expect in Napa merlot. And this is prototypical silky Napa merlot. Delivers complexity and lushness. Medium-full body. This easily can be enjoyed now, but also is built for aging a decade or more, when it will be even more integrated and have greater depth. That said, I know most folks—certainly including me—will not have the patience for that. Almost all wine released today is released to be enjoyed now, so pull cork and enjoy. Appears to be 100% merlot with restrained oak; 14.9% ABV.
Fiona and Hal Barnett fell in love with Napa Valley during weekend visits. They purchased a 40-acre property at the top of Spring Mountain Road in 1983 with vision of producing small amounts of hand-crafted wines that would showcase the high elevation grapes. Today, their cabernet sauvignon and merlot offerings reflect the unusual high elevation and steep slopes of their vineyards, as contrasted to the vineyards in the Napa Valley. Because of the topography, tractors and disking are not possible and virtually all the farming is done by hand.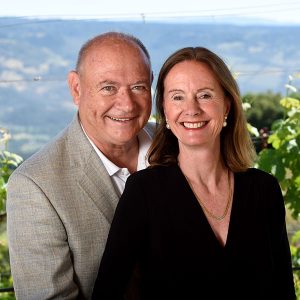 David Tate is the winemaker and general manager at Barnett Vineyards. He joined the team in 2007 after working at Ridge Vineyards. Tate also worked in the Barossa Valley, Australia; Provence, France; and Canterbury, New Zealand. He is a honors graduate in enology and viticulture from Brock University, Ontario, Canada.
Barnett Vineyards Merlot, Spring Mountain District, Estate Bottled 2018 is bright, fruit forward, classic Napa merlot. Full, rich, restrained tannins and acidity. Soft, supple, smooth in the mouth. Very easy, fruity drinker. If you are a merlot fan, you will enjoy this very much. Versatile and food friendly. Pair with beef; filet mignon; pork shoulder, roast pork and pork loin; braised short ribs; grilled or roast chicken; lamb; richly sauced dishes, including fish; caramelized vegetables; blue cheese, cheddar cheese, gorgonzola; with its soft approachability, this works as a cocktail wine paired with neutral wine crackers or a charcuterie tray. $60-70