Deep garnet color; red and black fruits, blackcurrant on the nose; cherry, plum, raspberry, blackberry, blueberry, chocolate, coffee, leather on the palate.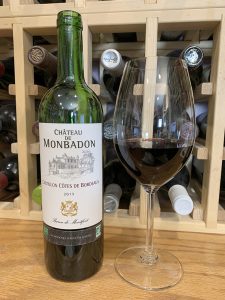 Dry; chewy tannins evolving nicely after six years. Good balancing acidity. Apparently a blend of 70% merlot, 30% cabernet sauvignon. Light oak influence—aged around six months in French wood. Made with organically grown grapes. 14% ABV
Château de Monbadon is one of the last surviving examples of medieval military architecture in Gironde. It dates back to the start of the Hundred Years War in 1330. In that year, the English king Edward III gave Indie de Monbadon a license to strengthen this stronghold in order to protect the Dordogne and l'Isle valleys. This is part France today. It was part of England way back then.
The same Monbadon family has owned the property since 1602. Numerous lords, the Barons of Monbadon, succeeded one another on the estate in direct line or by marriage, including the Count of Lafaurie, Mayor of Bordeaux, Peer of France and President of the Conseil Général, at the start of the 19th century.

Côtes de Catillon virtually is an extension of St. Emilion, and thus the predominance of merlot, as you expect from a right bank Bordeaux. The region primarily is limestone and clay, which results in sturdy wines such as this. Wines from this region typically are earthier than counterparts in the New World. This does have thicker, more muscular elements than left bank and New World Bordeaux wines, so it is less an easy drinker and more a food wine.
Baron de Montfort Château de Monbadon Castillon Côtes de Bordeaux 2015 is a firm, solid—even stolid—right bank Bordeaux that will be at its best paired with food rather than enjoyed as a solo sipper or cocktail-time wine. Plenty of dark fruits, relaxed tannins and mouthfeel you expect from a wine where merlot is the lead grape. Admirably expresses its ancient terroir—the estate dates back some 800 years. Pair with red meats—steak, lamb, veal; hard and aged cheeses. $20-30