Deep ruby color; cherry, blackcurrant, mint, tobacco, violets on the nose; black cherry, plum, chocolate on the palate.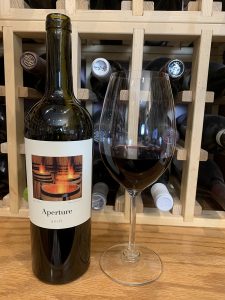 Dry; relaxed tannins—smooth with nuanced complexity. Excellent structure and balance. Very refined. Silky mouthfeel. Medium body. Lingering finish flaunts finesse rather than jammy power or alcohol. This is superb wine.
Bordeaux blend of 39% cabernet sauvignon, 33% merlot, 22% malbec, 3% cabernet franc, 3% petit verdot. Cold soak for four to seven days with minimum oxygen. Fermentation with native yeasts in temperature controlled stainless steel for 14-28 days. Malolactic fermentation in barrel and finished on the lees for 18 months in 60-gallon French oak, 50% new. Bottled unfined, unfiltered, un-acidified. 14.4% ABV
The Alexander Valley just misses being the northernmost part of Napa, just north of Knights Valley, and very near the town of Calistoga. It is Sonoma County's warmest AVA, but the Russian River running through the valley creates cooler areas. Its soft, alluvial/clay soil is ideal for cabernet sauvignon, encouraging phenolic ripeness and preserving freshness. Some claim this is best location for cab in Napa/Sonoma. The clay soil means merlot also does well here—thus contributing to this classic Bordeaux blend.
The winery name comes from owner Andy Katz's day job as a world-famous photographer with dozens of award-winning books in his portfolio. While pursuing his click career, Andy infused his love of wine in his son, Jesse. Today, Jesse is a celebrated winemaker. Jesse appeared on the cover of Wine Enthusiast as a "rising star" who the editors praised as "changing the way the world drinks."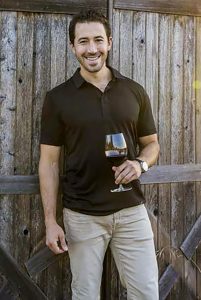 Aperture website: "Jesse's diverse experience spanning 15 harvests at wineries, along with his desire to travel, fed his aspiration to learn from the best in the industry, including Pétrus in Bordeaux, as well as time on the winemaking teams at Screaming Eagle Winery and Robert Foley Winery in Napa Valley, and Viña Cobos and Bodega Noemia in Argentina.
"In 2010, Jesse was the youngest-hired head winemaker in the US at Lancaster Estate where, during his five-year tenure, he orchestrated the building of the new Roth winery, production facility, and tasting room on Chalk Hill Road, grew the Roth line over 800%, and received 90+ scores on every wine scored by Robert Parker, Jr., and garnered Lancaster Estate's inclusion on the list of Wine Spectator's Top 100 Wines."
So, another celebrity does wine, but this one did it with his son. Jesse supplies the grapes and the wine. Andy produces the images. It that cool or what? Sip this effort and celebrate this father-son partnership.
Aperture Cellars Sonoma County Red Blend 2018 is breathtakingly excellent Bordeaux-style blend at its price point. If you can find some, buy it. Supple, silky, excellent depth and length. From the vineyard through the bottling, Aperture lets the grapes and wine find their own way and express themselves. This comes from magic parts of Sonoma and demonstrates why Alexander Valley and Sonoma need to be in the same paragraph as Napa and Bordeaux when it comes to cab-merlot-plus blends.
Pairs well with tame red meats (its gentle tannins means will not do as well with the heartier slabs of heavily marbled beef); lamb; veal. Also with meatloaf, hamburgers and other comfort food, but wine at this level should be reserved for finer fare. In fact, just drink it on its own with some wine crackers and a charcuterie broad abetted by long-time friends, family, people you enjoy and who enjoy you. $55-58
Aperture website with nice landing page video