Inky purple color; hint of bell pepper, raspberry, black plum on the nose; black plum, blackberry, raspberry, black cherry, pinch of mint on the palate.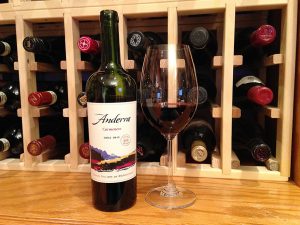 Somewhat green, vegetables; oak, medium weight, significant tannin; rich, whiff of mocha/chocolate in the background. Carmenere is to Chile as malbec is to Argentina, but carmenere has a more difficult task to attract devotees with its gritty tannin and less familiar flavors. That said, give carmenere a taste.
The brand names comes from the combination of ANDes (the mountain range) and tiERRA (the Chilean terroir). The winery is located 30 miles south of Santiago in the famed Maipo Valley.
Baron Philippe de Rothschild was member of the Rothschild banking family. He became a Grand Prix race car driver, playwright, theater and film producer, poet, and eventually a major, world-wide wine producer. He took control of Château Mouton Rothschild in 1922, at age 20. He ended his race car career in the early 1930s to focus on the family's wine operations. In succeeding years, he expanded the family operations world-wide.
The baron's life story is worthy of your own research—escape from Nazi journey and service in the Free French Forces of General Charles de Gaulle earning him a Croix de Guerre medal, death of his wife in a Nazi concentration camp, seizure of his family estate to become headquarters of the German Naval Command, marriage after the war to a Paris-born American and fashion designer. Well, this is wine review, so you can search yourself for more of the story—founding of Opus One in California with Robert Mondavi and move into Chile with Concha y Toro.
Expand your wine horizons. Carmenere is not quite like other varietals you have tasted before. Pour away, experience the unfolding joy of wine discovery. $14