Light straw color; pear, white peaches, lemon zest on the nose; white peach, lemon, cantaloupe, green apple, pear, dash of honey on the palate.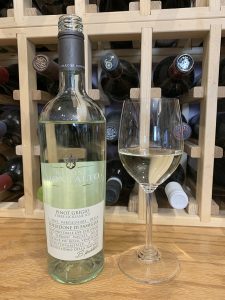 Dry; no oak; excellent acidity (3.25 pH). Light, refreshing, tangy, balanced acidity and fruit. Sleek body. Interesting wine from Sicily—you typically think of pinot grigio (pinot gris) from northern parts of Italy. From the opposite end of the country, Barone Montalto pulls this off with a 100% pinot grigio wine that is vibrant and delivers surprising length and minerality notes. This is further evidence that pinot grigio can be much more than simply a quaffable lightweight white; 12% ABV.
Barone Montalto began in 2000. The website's somewhat flowery report: "There is one major feature making us different: the courage in putting in the public eye a strong and wealthy land for introducing its distinctive and authentic wines throughout the world. Out constant passion has always been a core topic in our project. Montalto wines come from great tradition and young character and are admired by a more and more attentive audience of consumers."

Well, alright. Barone Montalto manages almost 1,000 acres, some estate, some owned by others. All are governed by the "Montalto quality protocol" to influence grape quality. The majority of the blocks are located in Santa Ninfa, in the heart of the Belice Valley in western Sicily. Other vineyards are in the province of Agrigento on Sicily's southwestern coast, and in Noto in the Province of Syracuse on the southeastern part of the island.
Barone Montalto Pinot Grigio Terre Siciliane IGT 2019 is tangy easy drinker from Sicily. Fresh, light, crisp, excellent acidity. Relatively simple and straightforward on the attack, it grows on you in the mid-palate and extended finish, unfolding with unexpected depth, especially for a QPR (value-price ratio) pinot grigio. Pair with shellfish and seafood in general; vegetarian fare, including vegetarian pizza; pasta dishes with white sauces, garden salads; mushrooms; works as a zippy aperitif. $12-15