Deep ruby color; blackberry, blackcurrant, black cherry on somewhat muted nose; red fruits, blackberry, plum, mocha, sweet oak spice on the palate.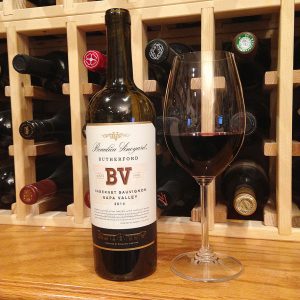 Blend of 90% cabernet sauvignon, 4% petit verdot, 3% merlot, 3% malbec, the non-cab element likely added to provide complexity and nuances to a testing vintage. Dry (5.6 g/L) with signature dusty Rutherford tannins. Oak from 15 months in 60-gallon French, American, and European oak barrels, 58% new, but not excessive—the 42% used oak helped here; malolactic fermentation occurred during the time in oak. Good acidity (3.66 pH).
Classic Napa cab, perhaps jolted by the at-harvest-time earthquake in August 2014. The year was testing also with warmth that engendered early budbreak, then continued with the struggles with California's drought conditions. Hey, if wine was easy, everyone could do it. Spoiler alert—not everyone can.
The result is a round, pleasing, easy drinker with fruit sweetness persisting from initial attack through mid-palate; relatively short finish for wine of this quality, but adequate. Like so many big reds, this benefits from decanting. Fairly one-dimensional; does not have flaws, but does not have distinguishing flashes either.
Beaulieu is Napa royalty, producing quality wines for more than a century; long-time home of iconic winemaker André Tchelistcheff, later associated with controversial-if-brilliant consultant Michael Rolland.
You can't hit a home run every vintage, and Beaulieu Vineyard Cabernet Sauvignon Rutherford 2014 does not sail out of the park. It is however, no strikeout—more a solid single that could be stretched into a double on the right day with the right people. In short, what you can expect from Beaulieu—admirable consistency and quality. You can confidently buy Beaulieu without worry. Plus, this is only one click above Beaulieu's entry-level pours. Pay more—for BV Rarity, for instance, a 99-point Robert Parker scorer for $800-1,000—and the legendary tastes will be there. Until you play in that league, Beaulieu Vineyard Cabernet Sauvignon Rutherford 2014 will do just fine.
Beaulieu Vineyards, or BV, now is a brand of Treasury Wine Estates, a major international player in the wine world, making wine in 12 countries, selling more than 35 million cases of wine a year, and generating sales of more than $2 billion. Labels you may recognize beyond BV include Stag's Leap, Sterling Vineyards, Beringer, Chateau St. Jean, Greg Norman Estates, Lindemans, Wolf Blass, and their flagship—Penfolds. Treasury tends to focus on commodity wines sold in supermarkets and mass-market liquor-beer-wine stores, which is where BV largely resides today, especially at this price point.
Beaulieu Vineyard Cabernet Sauvignon Rutherford 2014 is no-flaws, tasty, easy drinker you can pour without fear, but it also is unlikely to evoke raves. Nothing wrong with that at this price. This is a Napa-Rutherford, widely distributed, wide-audience, dry cab with distinctive dusty Rutherford tannins and nice fruit as it evolves in glass. Decant and enjoy a legendary Napa maker's juice. $30-33