Deep ruby color; ripe red fruits, plum, blueberry, whiff of toasty oak on the nose; ripe cherry, blackberry, blackcurrant tang, plum, raisin on the palate.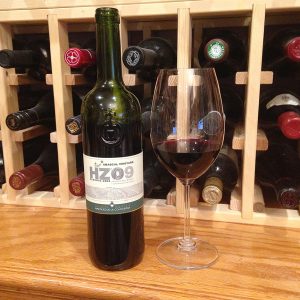 Big ripe fruit attack; intense in the mouth; fine-grained tannins with admirable balancing acidity. Vanilla, tobacco appear mid-palate following the massive ripe red fruit initial attack; big blackcurrant element; tannins, acidity, some heat (14% alcohol) persist on long finish. Wine is 100% tempranillo (locally known as tinto fino).
Greatly benefits from air, smoothing out the initial aggressive sour cherry, blackcurrant, black fruit attack. Also, the wine is unfiltered so there likely will be sediment, especially after the years in bottle required by reserva rules. My second glass, tasted after decanting-aeration, was much smoother and delicious while maintaining the ripe fruit character. This is vivid demonstration of how time with air significantly improves wine, especially powerful reds.
This is a product of the Marques de la Concordia Family of Wines that includes Hacienda Zorita (HZ), Marqués de la Concordia, Lagunilla, and Federico Paternina wine brands. The Haciendas Company produces premium Spanish wines, such as this one, from iconic regions of Spain. The HZ Abascal winery was founded in 2003 and produces this wine from a single vineyard (32 acres) in the "Golden Mile" of the Ribera del Duero Denominación de Origen (DO). Ignacio Gutiérrez is the chief winemaker at Hacienca Zorita; Carmelo Angulo is the master winemaker for the Marques de la Concordia Family of Wines. The Marques de la Concordia Family of Wines is part of United Wineries, a global producer and distributor of fine wines from Spain and secondarily from Argentina; their brand beyond the Marques de la Concordia Family of Wines labels is Berberana, one of the most famous in Spain with history dating back to 1877.
Wine production in the Ribera del Duero is almost all tinto fino. To qualify as a reserva, this wine spent one year in oak (French), where it also went through malolactic fermentation, then two years in bottle before release, and—as the vintage date implies—the winery held on to it well beyond the minimum requirement.
The Haciendas Company also is a management services company that manages small, luxury wine hotels (all 5-star quality), casual restaurants (under Zorita's Kitchen brand), and special events and banquets (under The Haciendas Club brand) that feature Spanish food products such as olive oil, raw sheep's milk cheese, and ibericos (a type of cured ham).
Hacienda Zorita Abascal Reserva 2009 is a sophisticated wine that will pair very well with roasted or grilled meats, suckling pig, sharp cheese. Be sure to decant and give it plenty of time to breath. Not a pop-and-pour candidate, but your patience will be well rewarded. $30