Medium purple color; red fruits, rose petals on the nose; red plum, blackberry, black cherry, chocolate on the palate.
Dry; medium body; soft tannins with some balancing acidity; very smooth easy drinker. Some oak—aged more than a year in American oak, but not excessive oak monster. Leather emerges on the finish, which is a tad disjointed but not a reason to pass on this effort. As a malbec, you would expect a spice element, but I don't catch spice on this, or a least it is muted. Becker aimed for Mendoza, Argentina style; this does not quite achieve that. It is simpler and lighter in body, but it works on its own terms as a Texas wine. Certainly enjoyably drinkable.
Becker started when Dr. Richard and Bunny Becker sought a Hill Country getaway from their lives in San Antonio. They found it in Stonewall, Texas, halfway between Fredericksburg and Johnson City. They first aimed at a small operation, but it soon blossomed and Becker, located on 46 acres near a lovely lavender field, now runs with the big dogs.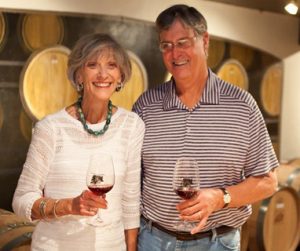 Becker is the largest buyer of French and American oak in Texas and produces 100,000-plus cases a year, allowing for extensive distribution, something most Texas wineries have not yet achieved.
Becker Vineyards Malbec 2014 is simple easy drinker. It won't displace your Mendoza malbec, but it works for what it is and at a fair price. Fruity, very simple tannins, some balance, certainly not an embarrassment by any means. If you can shag this at the lower price, this definitely is a value-for-price play. Pair with venison; roast pork; sirloin, hanger, filet, skirt steaks; blue cheese burger; lamb; wild rice and mushroom-stuffed peppers. Avoid fishy fish, vinaigrette salads, bitter greens. $12-16