Medium ruby color; cherry, tobacco, fig, cooking spices on the nose; cherry, redcurrant, red fruits, blueberry, toasted oak, smoke on the palate.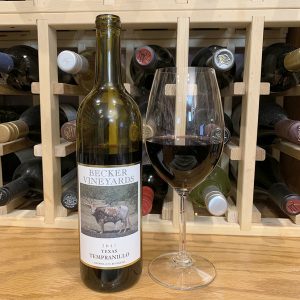 Dry; medium tannins and acidity. Medium body. Somewhat rustic and earthy. Benefits from decanting—definitely recommended—which evokes the fruity sweetness (not sugar sweetness) in the wine and makes a more layered, integrated libation with some velvety smoothness. A pretty nice trick for a wine at this price point; 13.7% ABV.
Mostly tempranillo, a grape that has found great success in Texas. It is joined by a splash of touriga nacional, the Portuguese grape that also has found a terroir home in Texas. Both grapes have the skins and constitution to do well in higher-altitude, hot daytime climates followed by 30-40 degree temperature drops at night. That is the profile of the Texas High Plains AVA that produces the grapes in this wine.
The touriga nacional, most often associated with Porto, brings body, alcohol, and tannins to the blend. With global warming in Portugal and in Texas, touriga nacional is finding increasing use as a blending grape and as a single-varietal bottling in both places. This is the first vintage for Becker to blend touriga nacional in this well-established offering. The grapes come from Six Hearts Vineyard near Tokio, an unincorporated community near Brownfield, southwest of Lubbock on the Texas High Plains.
This is one of Becker's supermarket-priced ($12-13), larger production wines. They make a reserve iteration of this that sells for almost twice as much and may have to be purchased through the winery website or at the winery, but there is some wine store, supermarket distribution (HEB in Texas, for instance). You have a good chance of finding this at a wine store or supermarket with good wine selection, especially in Texas.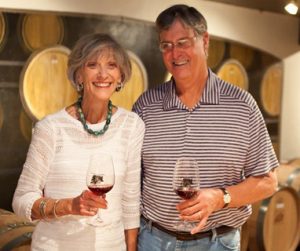 Becker started when Dr. Richard and Bunny Becker sought a Hill Country getaway from their lives in San Antonio. They found it in Stonewall, Texas, halfway between Fredericksburg and Johnson City (17 miles away from Fredericksburg). First imagined as a small operation, it soon blossomed and Becker now runs with the big dogs.
Becker is the largest buyer of French and American oak in Texas and produces 140,000-plus cases a year, allowing for extensive distribution, something most Texas wineries have yet to achieve. They are exemplar of Texas winery success. Bunny was a ferocious promoter of the brand, a task to which she immersed herself in the 1990s after surviving breast cancer. Bunny was the ebullient, smiling face of Becker for decades. Texas wine lost a shining, inspiring light when cancer returned and Bunny died in August 2019.
Becker Vineyards Texas Tempranillo 2017 is an impressive, all-Texas-fruit wine at an everyday wine price. After decanting, it evolves into a rich, delicious wine with some complexity and becomes a smooth, fruity-fun, velvety, easy drinker. Pair with barbecue; grilled steak; ribs; grilled chicken; heavy fish; pork; Mexican and Tex-Mex food; roasted vegetables; aged, hard cheeses. At this price point, it is a nice choice with mid-week burgers, sliders, pizza, meatloaf, and other comfort foods scarfed while watching television or joshing around on the back porch. $13