Deep copper-salmon color; strawberry, cherry, sweet balsamic on the nose; strawberry, cherry, watermelon, minerality, lemon-lime on the palate.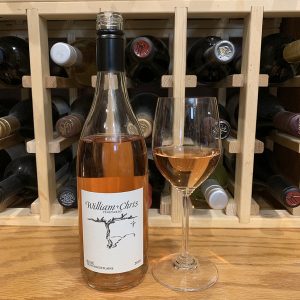 Dry; good acidity (3.62 pH, but with the lemon/lime/mineral notes from the riesling, it drinks more crisply). No tannins. No oak—finished in 100% stainless steel for six months. Excellent fruit. Imaginative blend of 35% sangiovese (Bayer Family Vineyard), 31% riesling (Paka Vineyard), 23% sangiovese (Letkeman Vineyards), 11% mourvèdre (Lahey Vineyards)—thus 66% sangiovese. All vineyards are southwest of Lubbock on the Texas High Plains.
Humans are not very good at sensing sweetness. Fruitiness is not sugar, but our palates are easily fooled. That dramatically happens here on the mid-palate and finish. The initial attack is about minerality and lemon-lime notes, but then cometh sangiovese and mourvèdre fruitiness and you get sweet strawberry, cherry, and watermelon. The result is a delightful trip through layers of taste sensations.
The winemaking facility and tasting room are located in the tiny hamlet of Hye, 20 miles east of Fredericksburg on US 290, the wine road in the Texas Hill Country that is similar to Napa's Highway 29. The Texas Hill Country AVA is the second-most visited AVA in the United States, behind Napa. There are clear differences: the Napa AVA is 789 square miles; the Texas Hill Country AVA is more than 14,000 square miles. Well, things are bigger in Texas.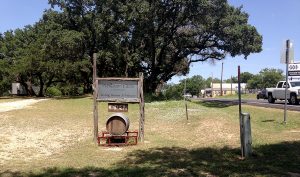 While the Texas Hill Country AVA produces some grapes, the AVA is famous for its wineries and tasting rooms. Most Texas grapes—85%—come from the Texas High Plains AVA, a region of more than 12,500 square miles on the Texas High Plains (Llano Estacado) centered around Lubbock. With elevations ranging from 3,000 to 4,000+ feet, hot days and cool nights, the High Plains developed into a major grape producing region in the past 40 years.
For more than 1.5 million people in San Antonio (seventh largest city in the U.S.) and one million people in Austin (11th largest city in the U.S.) the Hill Country AVA is an easy day trip. Throw in 2.3 million people in Houston (4th largest U.S. city) and the Dallas-Arlington-Fort Worth area with 2.5 million people. The Hill Country AVA is comfortably reachable for some eight million people in a less than a four-hour drive. Texans don't blink about four hour drives, and the Austin/San Antonio drives are 90 minutes or less.
Wisdom is you go to Napa for vineyard beauty, pricy restaurants, and tony tasting rooms. You go to the Texas Hill Country if you want welcoming tasting rooms, good food, thigh-slapping fun, and outrageous characters. You also go there to enjoy the soaring quality and sophistication of Texas wines. William "Bill" Blackmon and Chris Brundrett—William Chris Vineyards—are part of that inspiring story.
William Chris Vineyards Rosé Texas High Plains 2018 is a tasty Texas rosé with interesting layers and complexity, thanks to an ingenious blending of fruits, including sangiovese and riesling. Throw in mourvèdre for good measure and its pepper and gamey notes. Tasty fruitiness juxtaposed to lime/lemon and mineral notes should please a panoply of palates. Pair with rich tasting fish—salmon, tuna, seafood bouillabaisse; camembert cheese; charcuterie. Will also work as an aperitif or for summer sipping on deck, patio, porch, picnic, or poolside. $22