Medium gold color; white peach, white flowers on the nose; stone fruits, honeysuckle, pineapple, peach, Meyer lemon on the palate.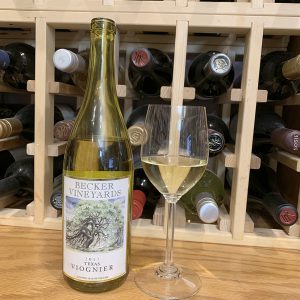 Dry; crisp acidity pairs with medium-full body and some oak from time in French oak. Website does not say how long or if it was in oak, but my guess is not all new. This is not an oak monster viognier. No tannins. Some oiliness, which is viognier signature, but not as much as a French iteration. Very easy drinker, delicious and smooth; 14.3% ABV.
Viognier clearly has found a home on the Texas High Plains AVA, where these grapes were grown. The winery is in the Texas Hill Country AVA on Hwy 290 in the Fredericksburg area. That is the Texas wine scene. Grow grapes on the High Plains—with their plus-3,000 plus feet elevations and extreme diurnal changes, then make the wines and attract the visitors in the population-rich Hill Country between Austin and San Antonio.
Becker started when Dr. Richard and Bunny Becker sought a Hill Country getaway from their lives in San Antonio. They found it in Stonewall, Texas, halfway between Fredericksburg and Johnson City (17 miles away from Fredericksburg). They first aimed at a small operation, but it soon blossomed and Becker, located on 46 acres near a lovely lavender field, now runs with the big dogs.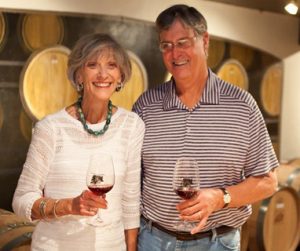 Becker is the largest buyer of French and American oak in Texas and produces 140,000-plus cases a year, allowing for extensive distribution, something most Texas wineries have not yet achieved. They are exemplar of Texas winery success. Bunny was a ferocious promoter of the brand, a task she immersed herself into in the 1990s after surviving breast cancer. She was the ebullient, smiling face of Becker for decades. Texas wine lost a shining, inspiring light when cancer returned and Bunny died in August 2019.
The Becker success is a defining element of the impressive Texas wine scene. The state now can claim to be the fifth largest wine producer in the US. That is a marginal claim. California makes some 89% of American wine. Washington, Oregon, and New York make most of the rest. Texas makes something more than one-half of one percent of US wine, but increases its percentage each year. The Texas wine scene surges forward. The Texas Hill Country AVA—where Becker's Fredericksburg tasting room and commodious winery are located—is the second-most visited AVA in the nation, behind only Napa. Who knew when Richard and Bunny took a winery fling 25 years ago?
Becker Vineyards Texas Viognier 2017, and many other Becker offerings, are available in most Texas grocery stores and wine shops—indicative of its production and marketing success, much of which is attributed to Bunny Becker's charisma, skill, and tenacity. It now is available nationwide through the website and through distribution through wine stores. Bunny Becker appeared on the cover of Wine Spectator twice for a reason. This is a delicious, easy drinking, pure Texas viognier. Viognier pairs with a wide variety food—seafood, shellfish, roasted and grilled chicken, veal, pork, spicy foods, Asian cuisine, vegetables and salad courses. Like sauv blanc, if you are in doubt about a pairing, viognier always is a safe choice. $13