Deep purple color; black fruit, leather on the nose; plum, cherry, sweet spices, blackberry, prune, raisin, hint of blackcurrant on the palate.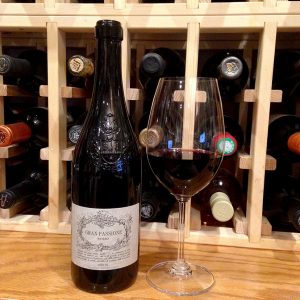 Dry; full body; round, soft, ripe, robustly juicy red and dark fruits, led by merlot (60%) blended with 40% corvina. Some of the grapes were allowed to raisin for two weeks (apassimento method) to add fruitiness and complexity and give this amarone notes. Very subtle, velvety tannins. Spice and vanilla added by some aging in oak, but the oak plays reserved role in the background. Extended time on skins created the intense dark purple color. All in all, an impressive wine at a "what, wow!" price point.
The Bertoldi family started its winery in 1932 in the moraine hills of Benaco Lake, commonly known as Lake Garda, seven miles from the historic city of Verona in the Valpolicella region of Italy. Emilio Bertoldi founded the winery; his sons Luigi and Giuseppe carried on the family tradition and today a third generation is taking the reins. The operation includes some 70 acres of vines.

Bertoldi Gran Passione Rosso Veneto 2013 is astonishing value. Rich, lush, juicy dark fruits. This has hints of amarone thanks to the portion of grapes air-dried—and at a fraction of the price. Delicious enough to drink by itself with neutral wine crackers or bits of cheese, and substantial enough to pair with roasted red meats, lamb, venison and other wild game, mature hard cheeses. $13-16
Bertoldi's rudimentary website