Pale straw color; peach, grapefruit, lemongrass, passion fruit on the nose; white peach, grapefruit, lemon-lime, minerality, saline on the palate.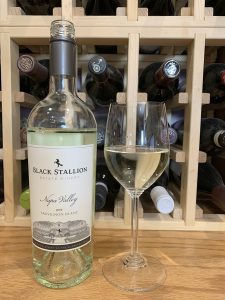 Dry; very crisp and precise; 100% sauvignon blanc. Made in stainless steel, aged in 77% stainless, 15% neutral oak, 8% concrete eggs for two months. Excellent acidity (3.24 pH). Nicely complex example of a Napa sauv blanc—not the first varietal that comes to mind with Napa; 14.5% ABV.
Black Stallion is a brand of the Indelicato family. Twelve years after landing in America in 1924, Sicilian immigrants Gaspare and Caterina Indelicato planted a vineyard in Manteca, California. The website notes: "Since that first vineyard flourished, Gaspare's children, grandchildren and great-grandchildren have honored his legacy through dedication to his steadfast values of family, hard work and integrity."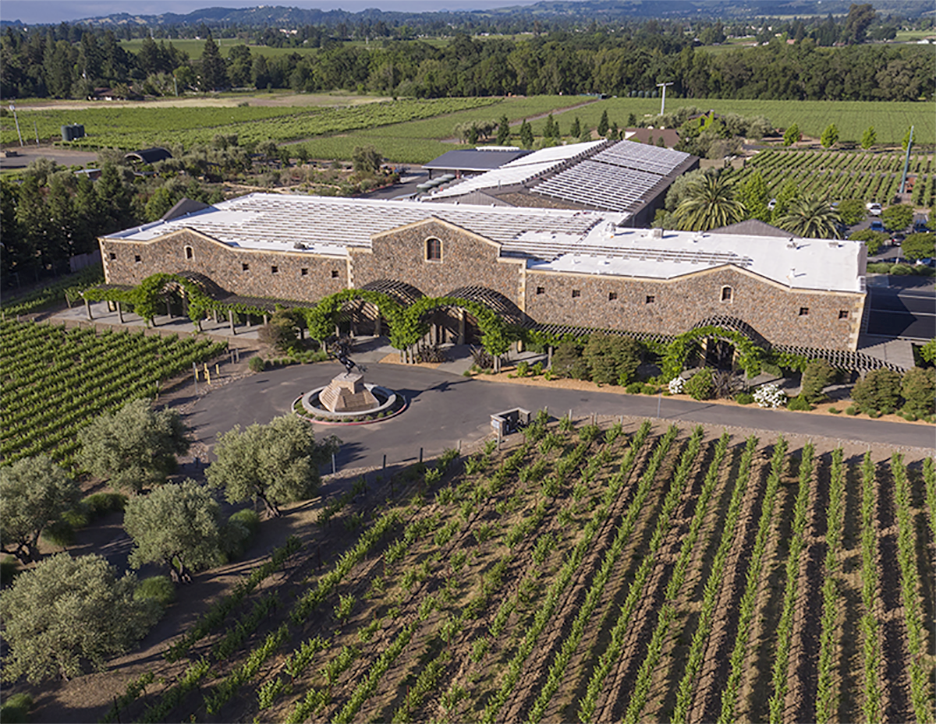 The Black Stallion name comes from the winery grounds becoming the Silverado Western Center, a major equestrian center that opened in 1963. The website notes: "The original riding area now houses prized wines, instead of prize-winning horses. However Black Stallion Estate Winery carries its heritage forward. The estate's legacy honors the world-class terroir of Napa Valley, the pioneering spirit of the Silverado Trail, and the Indelicato family's warm hospitality and generations of wine expertise."
Ralf Holdenried is the winemaker. A veteran of more than 20 years in the business, Ralf sourced most of the fruit from around Rutherford. The winery's notes: "The warmer climate in Rutherford contributes to the tropical fruit and melon flavors. The grapes from the Oak Knoll District of Napa Valley produce more citrus flavors and bright acidity due to the moderate climate." Eighty-seven percent of this is Rutherford fruit, 13% Oak Knoll District of Napa Valley.
The grapes are hand-picked, hand-sorted, then placed in optical sorter. Winery's notes: "Fruit clusters were gently pressed. The juice was settled for 24 hours and then racked off the solids to a second tank.  The wine fermented at cool temperatures for about 5 weeks.  The long, cool fermentation retains vibrant aromatics and bright acidity, while the different types of fermentation vessels add complexity and depth to the final blend."
Black Stallion Estate Winery Sauvignon Blanc, Napa Valley 2019 is superb example of what Napa can do with grape not immediately identified with Napa. Not as sharp as New Zealand, more white peach, but that will be a good thing for many white wine drinkers. Smooth, easy drinker with a touch of the edge you want from sauv blanc. Superb food wine, also what you expect. Pair with garden salads, lighter meats, younger cheese. $25-30