Medium ruby color; cherry, blackberry, meat on the nose; black cherry, blackberry, raspberry, fig on the palate.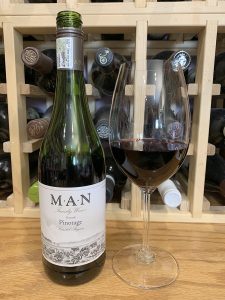 Dry; vibrant dark fruits; tame tannin; good balancing acidity (3.51 pH). Blend of 90% pinotage, 5% grenache, 5% cinsault; 13.5% ABV. Medium body. Very straightforward red wine showcasing darker fruits. Excellent QPR (quality-price ratio). Pinotage, especially exported pinotage, seldom is superb, but very often is extremely serviceable as a mid-week wine paired with pizza or comfort food. And all that for less than $10 in most places. This South African effort has a definite niche in your wine repertoire.
Pinotage is a cross between cinsault and pinot noir. Created in South Africa in 1925 at the University of Stellenbosch, it is signature red grape for that country. Pinotage retains pinot noir's penchant to be petulant, so it easily can get out of hand. It is the little girl with the curl—when it is good, it can be very good. But when it is bad, it is horrid. This is not horrid. And, as South Africa's wine industry has matured, very little is horrid today. Great values, often. Horrid, sometimes but now mercifully seldom.
Most very good pinotage gets consumed in South Africa and never makes it to U.S. shore stores. Some of this, thankfully, does. It is more muscular and assertive than pinot noir, but you can still sense the pinot parentage. Cinsault adds softness and bouquet. Pinotage is like a body builder in a well-tailored tuxedo.

The winery is a collaboration between José Conde and brothers Tyrrel Myburgh and Philip Myburgh. Conde spent 10 years in New York City and five in Tokyo, then realized he really wanted to live in a small town at the tip of Africa. The website notes: "He is the owner/winemaker of the award-winning Stark-Condé Wines in Stellenbosch, his Cabernet Sauvignons have 5 times been chosen as Platter five-star wines and twice received the Six Nation Wine Challenge Trophy for Best Cabernet Sauvignon."
The website presents its story: "We are José Conde and brothers Tyrrel and Philip Myburgh. We started making wine together in 2001. We're further supported by a group of dedicated grape growers from the Agter-Paarl region.  From our first 300 cases made in a tractor shed, we have grown to producing over 250 000 cases per year and exporting to 25 countries."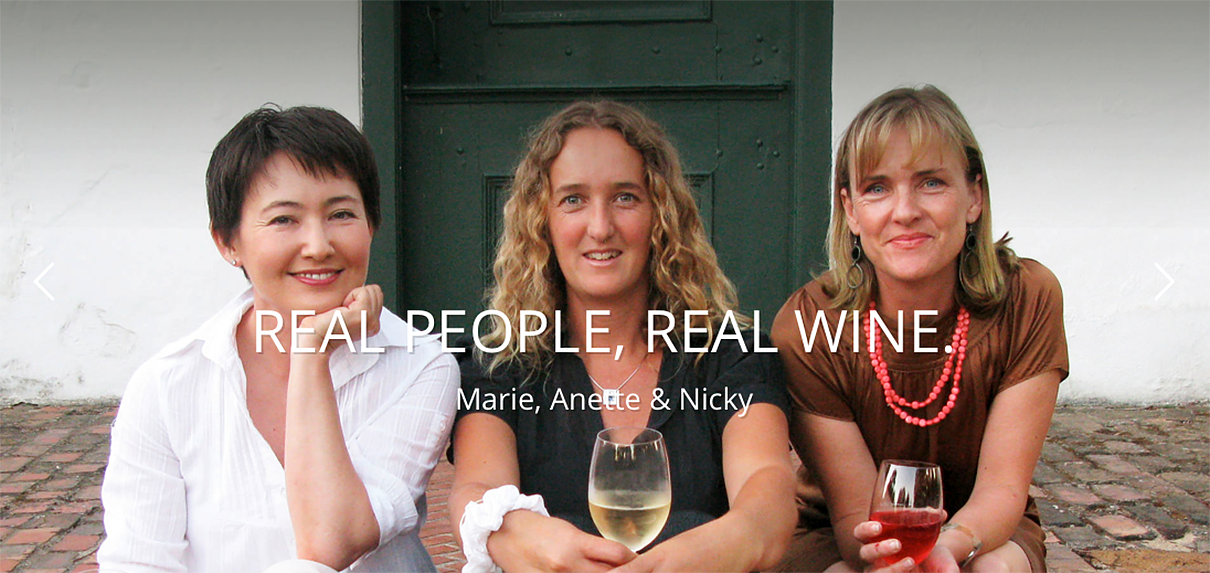 The website explains the winery name: "We wanted quality wine that offered excellent value and great packaging. Not exactly an epiphany, perhaps, but enough to motivate us into action. Of course, first we had to come up with a name. To keep peace in the families, we took our wives' initials (we each have one wife)—that is how we explained to Marie, Anette and Nicky that we were going to be 'busy' most weekends. 'It's for you!' we told them. And mostly it's true."
M•A•N Family Wines MAN Vintners Pinotage, Bosstok Coastal Region 2018 is lustily rich and tasty and superbly affordable. No, it is not complex and layered, but it scores as a comfort food wine with pizza or meat loaf, certainly as the second bottle on a rollicking evening with friends. $9-12
U.S. importer website, MAN winery pages