Medium gold color; peach, apple, honeydew melon on the nose; apple, white peach, pineapple, lime, honey hint on the palate.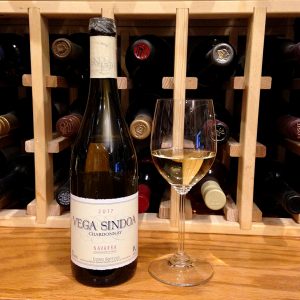 Dry; light body, soft in the mouth; nice fruit; vanilla in the mid-palate thanks to fermentation in French oak, followed by six months on the lees for depth and complexity; 100% chardonnay. Moderate acidity; smoothness of malolactic fermentation, but this is not close to being a butter bomb. Smooth, very easy drinker.
Bodega (Spanish for winery) Nekeas is located on the foothills of the Pyrenees mountains in the town of Añorbe in the Valdizarbe valley, the most northern region of the Navarra DO. Grapes for this wine come from two hillside vineyards which are divided by a small road, in an area known locally as Berezabal.
The vineyards face southwest, and have yields of approximately 1.2 tons per acre. Soils are clay-limestone and gravel. This is the only wine at the winery that is barrel fermented. New French oak barrels are used during fermentation, followed by weekly batonnage and aging sur lie.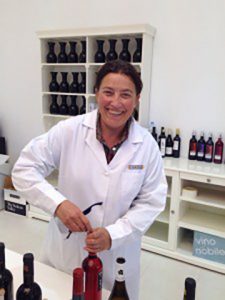 Concha Vecino is the winery's "oenologist and communicator." She writes on the website: "I enjoy my enjoy my work, controlling each stage of the process, from growing the vines and olives right through to final consumption, pampering each stage of production alongside an outstanding team. I love the chance to spend hours out in the open air in the vineyards and olive groves, traveling and sharing experiences with people from different countries. I feel like a mediator who translates the language of the vines into the language of wine, and that's a very pleasing feeling."
The winery also touts itself as a land of olive oil—a classic position for wineries. It is a stop of the Way of St. James, one of the world's most famous pilgrimage routes. The winery vineyards mark the sixth stage of the pilgrimage route that runs through Navarrese territory from Monreal to Puenta La Reina. Given its northern location, the winery and the wine have significant French influence.
Bodega Nekeas Vega Sindoa Chardonnay, Navara 2017 is delicious Spanish chard at an outstanding price point. It avoids the oak and butter excesses of some chardonnay (yes, I am talking about some of your efforts, California), but provides for subtle elements that round out and enhance what chardonnay—the grape that is the most pliable to the winemaker/grower's intentions than any other grape—can be. Bodega Nekeas gets it right. Pair with white and oily fish; lobster drenched in butter sauce; eggs Benedict; late-summer vegetables such as corn, butternut squash; pumpkin ravioli; cheddar cheese. This is rich and delicious enough to enjoy as solo sipper indoors (rather than deck, patio, or pool side). Great price-for-value play. $10