Pale yellow color; lemon, grapefruit, newly mowed grass on the nose; lemon-lime, grapefruit, white peach on the palate.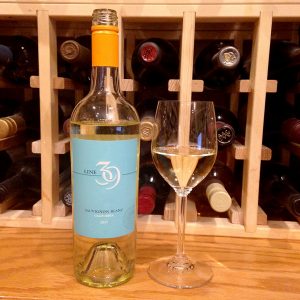 Dry; light and lithe in the mouth; good acidity (3.30 pH); saline notes on the finish. Very straightforward, simple sauv blanc. The lemon and grapefruit carry the day as it struggles some to achieve identity. Herbaceous notes on the mid-palate may put off some people. No oak, no sémillion, which some other California makers employ. Label says 13.5% ABV; tech sheet says 12.75% ABV; in any event, does not come across as hot.
Mark Rasmussen and Steven Decosta are the winemakers. They also are the winemakers at Austerity. The winery name comes from the 39th parallel, which runs through the California wine country. Line 39 uses grapes from throughout California for its large portfolio of wines. With the "California" designation, the grapes for this effort could come from anywhere in the state, but the website indicates Lake Country and Clarksburg. In any event, Line 39 is a Certified California Sustainable vineyard & winery.
Line 39 is a brand rather than a specific estate. There appears to be no winery or vineyards for the general public to visit—or to photograph. The Mark Wine Group represents Line 39. From the Mark Wine Group website: "Founded in 2007, and based in Austin, Texas, The Mark Wine Group is a family-owned, fine wine sales & marketing agency; representing family-owned and independent wineries and importers, with a clear and simple vision; to provide the premier selection of quality wines to your favorite hotel and restaurant companies throughout the United States."
Line 39 Sauvignon Blanc, California 2017 is a négociant producer of value wines. This effort emphasizes lemon-lime and grapefruit, with some herbaceous and saline notes after the initial attack. As it aired with time in glass and second and third pours, the saline becomes more prominent, which can be a flaw or a feature depending upon your palate. It represents some value for the price, especially if you favor its features. Pair with lighter fish and shellfish; garden salads. Personally, it does not have enough depth or coquettish qualities to shine as an aperitif or solo sipper, but—again—that is matter of personal preference. At its attractive pricing, worth a taste. $9-10