Medium ruby color; cherry, blackberry, plum on the nose; cherry, sour cherry, blackberry, tart raspberry, licorice, cured meat on the palate.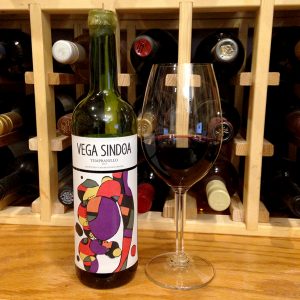 Dry; medium body. Soft tannins, restrained acidity. No oak, finished in stainless steel. Malolactic fermentation gives this some smoothness, but it retains some rusticity/awkwardness and bitterness, especially at first. Benefits from some air; decant. Fades pretty quickly on the finish. Simple wine—that is what you get at this price point; 13.5% ABV.
Bodega (Spanish for winery) Nekeas is located on the foothills of the Pyrenees mountains in the town of Añorbe in the Valdizarbe valley, the most northern region of the Navarra DO. Grapes for this wine come from 173 acres of clay-soil vineyards planted between 1992 and 1997; 1,500-foot elevation; 2.5 tons per acre.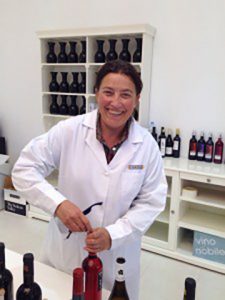 Concha Vecino is the winery's "oenologist and communicator." She writes on the website: "I enjoy my enjoy my work, controlling each stage of the process, from growing the vines and olives right through to final consumption, pampering each stage of production alongside an outstanding team. I love the chance to spend hours out in the open air in the vineyards and olive groves, traveling and sharing experiences with people from different countries. I feel like a mediator who translates the language of the vines into the language of wine, and that's a very pleasing feeling."
The winery also touts itself as a land of olive oil—a classic position for wineries. It is a stop of the Way of St. James, one of the world's most famous pilgrimage routes. The winery vineyards mark the sixth stage of the pilgrimage route that runs through Navarrese territory from Monreal to Puenta La Reina. Given its northern location, the winery and the wine have significant French influence.
Bodega Nekeas Vega Sindoa Tempranillo, Navarra 2017 is simple effort. No turn-you-off flaws, almost an easy drinker, but there is flatness in the mid-palate, then a slightly bitter note on the short finish. Has some charm, particularly the price, but misses being delicious. This seems best suited for the second or third bottle of the night. Pair with tapas, pasta, pizza, poultry, white meat, lamb, burgers and sliders, semi-cured cheese, aperitif with salty snacks. $7-10
Nekeas website has interesting depth