Deep purple color; bramble, licorice, violets on the nose; black cherry, blackberry, plum, sour cherry, blackcurrant, minerality on the palate.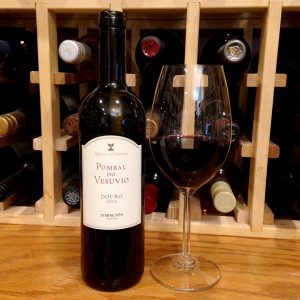 Dry; medium-full body; firm, dusty tannins (softened with four years of aging and decanting). Balancing acidity (3.68 pH). Concentrated, lush dark fruit flavors, Deftly done oak—10 months in French barrels. Shows elegance, vivid flavors, nicely long and satisfying finish. Blend of 50% touriga nacional (Portugal's prestige grape), 45% touriga franca (the child of touriga nancional), 5% Tinta amarela; 13.5% ABV. Decanting enhances aromatics and smooths out tannins and is recommended.
Pombal do Vesuvio is Quinta do Vesuvio's second label—the top label is simply Quinta do Vesuvio. It is made with higher proportion of touriga franca, which contributes more smoothness and violets aroma. The label name comes from a dovecote that the vineyard surrounds. A dovecote is structure for housing domestic pigeons. The higher percentage of touriga franca makes this more approachable in its youth, but Douro wines still needs time in bottle to reach their best drinking. At four years, this bottle was just entering its best drinking window.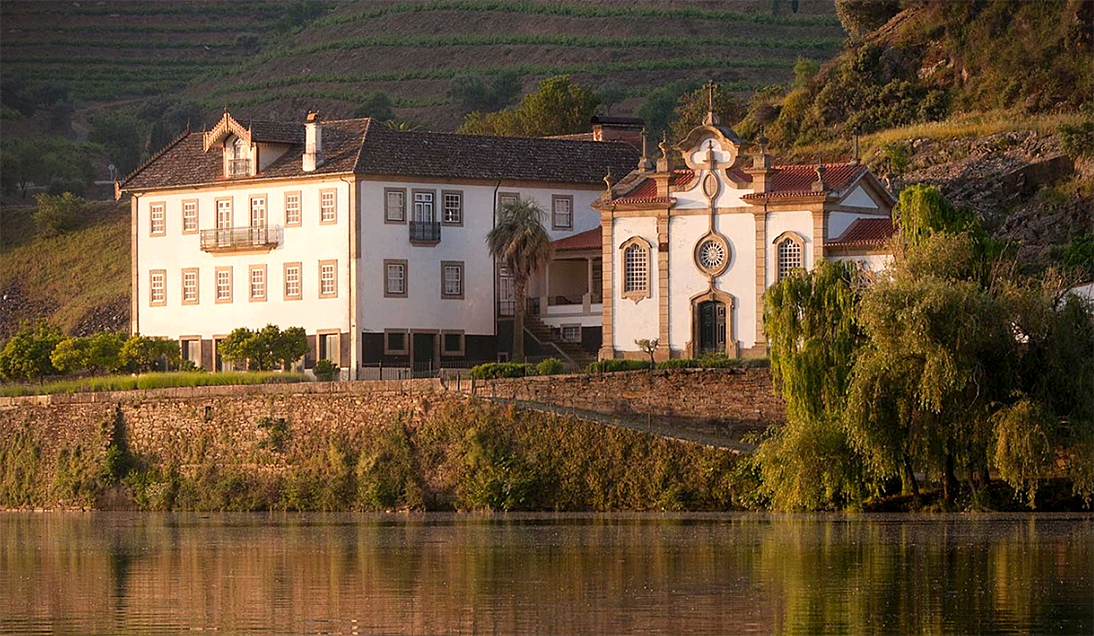 Quinta do Vesuvio dates back to 1830 and António Bernardo Ferreira, who renamed the location Quinta do Vesúvio, spelled with a "z" to reflect Portuguese spelling. Bernardo died in 1835, but as the website notes: "In the Allegory [grave marker] marking his death in 1835 it is only Vesúvio, of all his Quintas, that is depicted in the background and engraved on the effigy in the foreground."
Dona Antónia, wife of Bernardo's son, made it her life's work to improve Quinta do Vesuvio, especially after her husband's death in 1844. Dona Antónia died in 1896. The website notes: "Through her descendants Vesúvio passed through the hands of the Briti Cunha family for many generations until in 1989 when another family took up where the previous acts had left off: the Symingtons. This family, winemakers in the Douro for five generations, has preserved and reinvigorated the original imagination and energy that brought the seven hills and thirty-one valleys of Vesúvio to life."
The Symingtons dominate Porto and Madeira, but they also make outstanding still, non-fortified wines such as this effort. The website notes: "The family company, Symington Family Estates, is the leading producer of premium quality Ports in the world, with brands such as Graham's, Cockburn's, Dow's and Warre's. SFE is also the leading vineyard owner in the Douro Valley with 1006 hectares (2486 acres) of vineyards across 27 Quintas, all of which are managed according to sustainable viticulture standards and much of it is organically farmed.  Many of the region's finest Quintas belong to this independent family company." 
Symington Family Estates Quinta do Vesuvio Pombal do Vesuvio Douro 2015 is seriously good serious wine. It is not delicious in the easy-drinker category. It is elegant, structured, and complex. Great fruit layers, with touriga franca adding smoothness and aromatics. Great food wine with rich, red meats; beef tenderloin with blue cheese mashed potatoes; beef stroganoff; meat pies; Thai spiced beef with coconut rice; mozzarella, fontina, gruyere cheese. $26-28