Deep ruby color; cherry, tobacco, mint on the nose; black cherry, cocoa, cassis, integrated oak with hints of vanilla.
Dry, but has the signature tempranillo juicy sweetness. Made in the modern style for tempranillo—and this is 100% tempranillo—dense, polished tannins and good balancing acidity. Lots of dark, focused fruit. The oak is done well—malolactic started in oak barrels, but then the wine was transferred to stainless steel in an effort to tone down oak and put more emphasis on fruit. It worked. The result is a nice harmony of fruit, oak, tannin, and acidity. This approach is a new direction at Numanthia led by a new technical team. May this direction continue.
The winery's full name is Bodega Numanthia-Valdefinjas, but you will find it most often as just Numanthia, including on their website. They are a major player in quality Spanish wines—the Temes consistently scores in the 90s from wine critics who use scores.
From their website: "Founded in 1998, Bodega Numanthia, located in Valdefinjas, Castile and León, in the Northwest of Spain, is a veritable emblem of the Toro region wines." Later on the page: "All shaped in bush vines and ungrafted, some of our vines are reaching up to 150 years old and are spread all around the Denomination of Origin Toro in distinctive terroirs. Bodega Numanthia was the first estate to understand the potential of the Toro region and to reveal an outstanding Spanish terroir to the world, bringing the most beautiful expression of the timeless Tinta de Toro grape variety."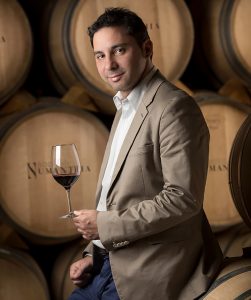 Lucas Löwi is the estate director. Born in Mendoza in Argentina, he first worked in his native country, then Möet Hennessy's South American division. He accepted the challenge from Numanthia into top ranks of wine world in 2015, making this the first effort his led. In accepting the challenge, he simply was moving within the LVMH company—LVMH is Möet Hennessy Louis Vuitton.
The website notes: "As Estate Director of Bodega Numanthia, Lucas seeks to preserve its heritage, a unique legacy composed by century-old ungrafted vineyards: with the vision of offering wines recognized as the reference from the Toro DO, on par with the best wines from Spain." Numanthia calls itself—and so do third-party sources—"the crown jewel of the Toro wine region of Spain." LMVH touts itself as the world leader in luxury wines, fashion and leather goods, perfumes and cosmetics, and watches and jewelry—and some third parties agree with that, too.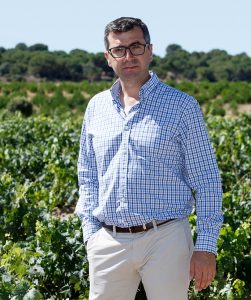 Jesus Jimenez is the technical director, which means he is in charge of terroir—the sandy soil and other vineyard variables. Another aspect is Numanthia's rare leather-clad wine barrels—reflecting their exceptional attention to details.
Bodega Numanthia-Valdefinjas Termes España Tinto de Toro is the entry-level offering from Numanthia. Numanthia Numanthia is the next step up (around $55), followed by Numanthia Termanthia (more than $200).
Bodega Numanthia-Valdefinjas Termes España Tinto de Toro 2015 is delicious expression of tempranillo from the Toro region of Spain by a top-tier maker. Great fruit, balance, depth. Toro is a distinctive tempranillo terroir, and this presents it admirably at an affordable price for this level of quality. Pair with steak, gourmet burgers, lamb, lasagna, pizza and tomato-based sauces, barbecue, polenta, even Mexican foods such as tacos, burritos, and chile rellenos. $27-30