Deep copper color; strawberry, red berries on the nose; strawberry, red fruits, cranberry, cherry on the palate.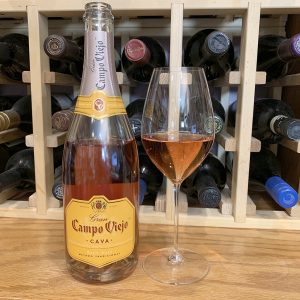 Brut; very fine, vigorous bubbles. Made using método tradicional—fermentation in the bottle, same technique used in Champagne. Fresh, crisp, clean, bright acidity. Very vivid red fruits. Acidity accentuates tartness. Zingy and delightful in the mouth.
Made with trepat, classic grape for light Spanish cava. Grapes grown in Conca de Barberà and Costers del Segre DOs of Catalonia. Ampelographers (botanists who focus on identification and classifications of grape vines) believe the grape is indigenous to the northeastern part of the Iberian Peninsula.
Women rule in the Campo Viejo winery. Elena Adell is Campo Viejo's chief winemaker; daughter of a grower, university degree in wine, she says she strives to make gentle, kind wines. She is quoted in the website: "I believe wine is something to be enjoyed with company. It's an essential part of celebrations, when you want to share a joyful occasion or a quiet dinner with friends. My aim is to make wines that add a special touch to any occasion, wines that make you feel like drinking another glass." This bottle certainly qualifies.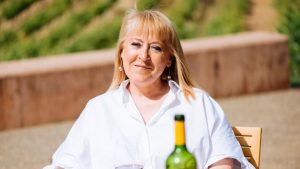 Clara Canals and Irene Pérez Gutiérrez are the assistant winemakers. Although the winery's roots date back many years in Rioja, today's modern winery opened in 2001. The website notes the winery: "is a harmonious balance between winemaking, architecture and sustainability. These elements have come together to create a winemaking temple that remains on the cutting edge of the international wine industry today."
Bodegas Campo Viejo Gran Campo Viejo Cava Brut Rosé NV presents vivid red fruits led by strawberry. Tart with excellent acidity. Impressive stream of tiny bubbles. Dramatic deep copper color. Great QPR (quality-price ratio—an acronym commonly used in wine evaluation). Very wide distribution, so should be easy to find. With its excellent acidity and tartness, will go with very wide range of foods—as do almost all sparkling wines. Show-stopping color makes it an impact aperitif, especially if paired with hors d'oeuvres. $11-14