Medium ruby color; raspberry, plum, clove on the nose; sweet strawberries, black cherry, raspberry, plum, cola, smoke on the palate.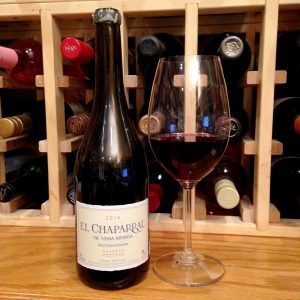 Dry; medium body; plush, fruit-forward with light, fine-grained tannins, balsamic acidity. Delicious easy drinker with superb balance on the long, fresh finish; 15% ABV. Grapes were lightly crushed, followed by cold maceration before primary fermentation. Transferred to oak barrels—new to three years old—for malolactic fermentation, followed by five months in French barrels. The oak strategy is deft, complementing rather than competing with the lip-smacking fruit tastes.
This is 100% garnacha from traditional goblet-trained vines 85 to 110 years old. The Nekeas website notes: "In the '60s, a serious crisis in the price of grapes led to a significant proportion of the vineyards in the Valley of Nekeas being destroyed. Just a few plots of Garnacha varietal survived entirely at the highest elevation inside the valley, those that we use to produce our signature wine, 'El Chaparral'. Years later, in 1997, when these vineyards were on the verge of disappearing, we made our first red wine from their grapes. We called it El Chaparral de Vega Sindoa and tried to convey the essence of the tradition of our land in it." Bodegas Nekeas does not release wine under this name if it is a poor year—2004 for example.
The scenic Valley of Valdizarbe has long been regarded as a quality production area in Navarra, in north-central Spain—a medieval Basque kingdom. The wine history dates back to the 15th century according to documents in Añorbe, where Bodegas Nekeas is located. The winery was revived in the 1960s. The eight founding families—Lizarraga, Urricelqui, Sola, Lacunza, San Martin, Huarte, Erviti, and Echarte—remain in control and continue a commitment to caring for the soil and the vineyard. Concha Vecino is the winemaker.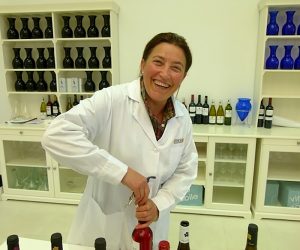 Bodegas Nekeas El Chaparral de Vega Sindoa Old Vines Garnacha 2016 is another example of the astonishing wines and astonishing wine values available in Spain (and Portugal, too). If you are not drinking Iberian Peninsula wines, you are missing out. This is delicious, smooth, fresh pure grenacha play from truly ancient vines—thus the superb concentration of fruit flavors. The wine only gets better with time in glass and air, but it was very enjoyable on the pop-and-pour. Later, I left it in large glass and swirled and swirled and it became even more delicious, and I rued my neglect of decanting.
Grenacha is versatile; pair with grilled, braised, stewed beef, veal, pork, chicken, wild game. Can play with less spicy Asian and Asian fusion. Pair with brown-sugar soaked salmon; roasted pork tenderloin with blackberry merlot sauce; bacon-wrapped chicken skewers; chili-rubbed flank steak; lamb chops with pomegranate-pistachio couscous; lamb cutlets; skirt steak with Moroccan spice rub and yogurt sauce. Ridiculous price for wine of this quality. $12-18