Deep ruby color; red cherry, licorice, red fruits, cranberry, smoke on the nose; red cherry, plum, raspberry, licorice, leather, balsamic, spice on the palate.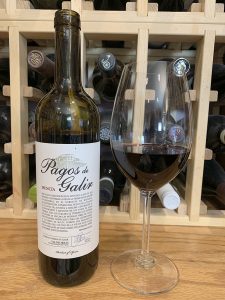 Dry—just 1.9 g/L residual sugar. Fruit-forward. Made with 100% mencia grapes. Maceration in cold, controlled tanks, as was fermentation. Following malolactic fermentation, finished for six months in French and American oak. Surprisingly good acidity for this grape—3.59 pH. Medium-full body. Somewhat rustic, but that can be feature rather than a flaw. Dusty tannins play bit part in the background. Rich red fruits dominate the experience.
Mencia is a thick-skinned red grape grown in northwest Spain and Portugal (where it is called Jaen). It is similar to pinot noir and gamay, but fuller in body and more assertive. At one time, mistaken for cabernet franc in Spanish vineyards. Mencia is a low acid, early ripening grape that can produce concentrated wines. While this wine is relatively simple, the red grape flavors carry the load. 13.5% ABV
The grape once suffered from a bad reputation as a grape that produced simple, light wines. That was caused by vineyards on low, fertile soils where growers pushed high yields over quality. This effort demonstrates mountainside vineyards and grower emphasis on low yields can produce quality wine.

The Virgen del Galir winery was founded in 2002 in a valley of the Galir river in Éntoma, a small village in Orense, Galicia, in northern Spain. The famed Camino de Santiago passes through the village. Virgen del Galir is part of the Valdeorras DO. It is a new wine from Rioja's CVNE.
CVNE stands for Compañia Vinicola del Norte de España (you also will see it spelled 'CUNE'). The company was founded in 1879 in the town of Haro in Rioja. CVNE was founded by two brothers and today is still controlled by the direct descendants of the founding family. The French architect Aleixadre Gustave Eifell—of Eifell Tower fame—designed the winery's first cellar using steel trusses so there are not columns. The company now comprises four wineries: CVNE, Imperial, Viña Real, and Contino.
Bodegas Virxen del Galir Pagos de Galir Mencia, Valdeorras 2016 is bold presentation of mencia grape. Rugged red fruit forward, it packs red fruit power without the accompanying pucker of big tannins. You get the flavor without the pain (or need to decant). Red fruits, licorice, leather. Slightly rustic in the positive meaning of that attribute. Pair with grilled meats; beef stew; meatloaf; barbecue; bacon; burgers and sliders; venison; lamb; veal. $16-20