Medium ruby color; strawberry, raspberry, spice, vanilla on the nose; cherry, cranberry, raspberry, oak on the palate.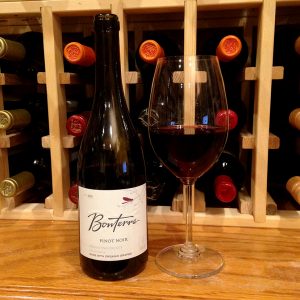 Dry-extra dry; full body for pinot noir; soft tannins; somewhat subdued fruit. Spent 10 months in French oak and underwent full malolactic fermentation that increased softness and added oak spice. Bonterra focuses on organic and sustainable agriculture. "We plant native flowers around our grapes to attract beneficial bugs, and welcome songbirds and chickens into our vineyards to eat up the pests," they announce. "We even employ sheep to mow between the vines. In our vineyards, every living thing is connected and we all work together to create pure, flavorful wine."
Bonterra not only commits to organic and sustainable, they also go the extra mile into biodynamic farming, sometimes called voodoo viticulture, but regardless of the put-down, an approach that consistently produces quality wine. The Bonterra website explains: "systems function together to create a single living organism: the farm as a whole. We farm our Biodynamic ranches striving to achieve this ideal with as few external inputs as possible. Biodynamic farming is a holistic view of agriculture with high awareness of the interconnectivity between earth, plants, animals, humans, the moon and planets." Don't roll your eyes, here is one of my columns about this approach: Link to column about biodynamic viticulture
Click on the link to the Bonterra website to get an even more complete appreciation of Bonterra and its commitment to biodynamic farming practices.
Bonterra Mendocino County Pinot Noir 2016 may score more points to organic purity than to its deliciousness; it is somewhat straightforward, not spectacular, but clearly competes well with commodity pinots at its price point. You may not be blown away by this effort, but you will not pout about the pour either. Taste and see if this pinot pleasures your palate. Pair with pork loin, coq au vin, beef bourguignon, salmon and other fatty seafood, venison burgers, lamb stew with root vegetables, grilled skirt steak with peaches. $18