Deep ruby color; cherry, plum, blackcurrant, whiff of oak on the nose; black cherry, plum, blackberry, chip of chocolate, vanilla on the palate.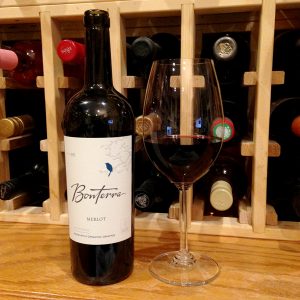 Dry; although merlot has restrained tannins, this benefitted from decanting—after tasting the pop and pour—by making it smoother and further emphasizing its structure and balance, including some forest floor on the finish. Medium body, fresh, smooth, supple. Balancing acidity.
Primarily merlot, but appears some petite sirah and malbec added for color and structure. Underwent full malolactic fermentation to achieve its smoothness, then spent a year in French and American oak, 45% new, to add a level of oak and the vanilla, although this mercifully is not an oak monster red.
Bonterra is a label of Chilean wine giant Concha y Toro, acquired in 2011 when they purchased Brown-Forman, best known for Fetzer Vineyard but also owner of Bonterra, for $238 million. Bonterra admirably focuses on organic and sustainable agriculture. "We plant native flowers around our grapes to attract beneficial bugs, and welcome songbirds and chickens into our vineyards to eat up the pests," they announce. "We even employ sheep to mow between the vines. In our vineyards, every living thing is connected and we all work together to create pure, flavorful wine."
Bonterra not only commits to organic and sustainable, they also go the extra mile into biodynamic farming, sometimes called voodoo viticulture, but—regardless of the put-down—biodynamic consistently produces quality wine. The Bonterra website explains: "systems function together to create a single living organism: the farm as a whole. We farm our Biodynamic ranches striving to achieve this ideal with as few external inputs as possible. Biodynamic farming is a holistic view of agriculture with high awareness of the interconnectivity between earth, plants, animals, humans, the moon and planets." Don't roll your eyes, here is one of my columns about this approach: Link to my column on biodynamic farming
Click on the link to the Bonterra website to get a more complete appreciation of Bonterra and its commitment to biodynamic farming practices.
Bonterra Merlot 2015 is a correct example of California merlot. If you enjoy mellow wines with restrained tannins and rich black fruits and a hint of chocolate, this wine is for you. Pair with pork shoulder, short ribs, roasted mushrooms, grilled flat iron steak with blue cheese, lamb, roasted chicken with thyme and onions, meatloaf, slow-cooked beef stew, spaghetti and meatballs, mac and cheese. $14-15